"Powerful elegance guided with ease": Hanns Lohrer's exhibition at Porsche Museum to capture Porsche's sporting successes
From 4 September to 4 November 2012, the Porsche Museum is exhibiting the works of the versatile Stuttgart painter and commercial graphic designer Hanns Lohrer (1912 – 1995) – and these works extend far beyond the topic of motor cars. During the 1950s and 60s, Lohrer played a pivotal role in the visual appearance of the Porsche brand which was founded in 1948. In this special exhibition the Porsche Museum pays testimony to the timeless quality of Lohrer's works, which made a lasting contribution to creating the positive image of the then fledgling sports car manufacturer.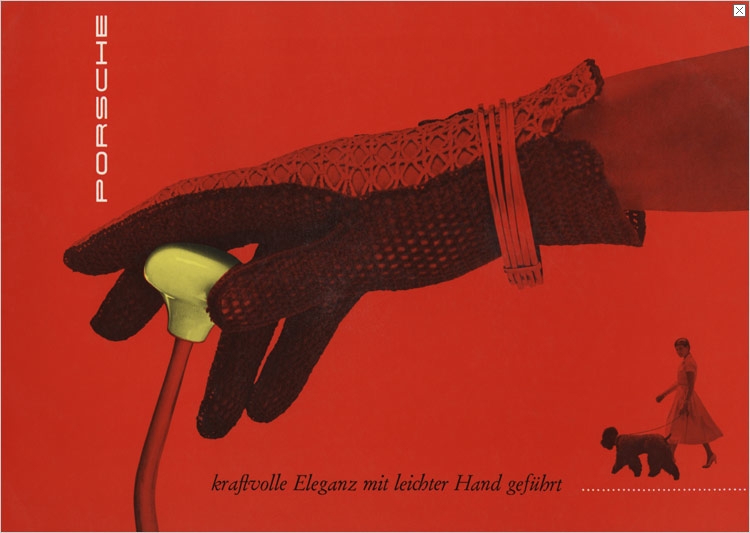 A selection of victory posters created by Hanns Lohrer at the close of every year to visually capture Porsche's sporting successes is one area of focus at the exhibition. A high point within Porsche advertising is, among other things, the series of posters designed by Hanns Lohrer in 1961 depicting the Porsche 356 in the context of sports such as golfing, hunting or horse riding
In addition to the 40 posters, the Porsche Museum exhibition also includes sales brochure artwork by Hanns Lohrer. Visitors can thus view the red cover page of the 1958 356A catalogue showing a woman's hand wearing an elegant glove and handling the gear shift of a Porsche with seeming effortlessness. And of course the poodle motif is a must, with the poster showing a refined young lady with a poodle on its lead at the lower right, giving the headline "Powerful elegance guided with ease" a second visual meaning. The poodle is a recurring element in Hanns Lohrer's work, and is even made the central motif of a 1960 Porsche poster entitled "I too, prefer Porsche". These exhibition pieces will be supplemented by around 30 original sketches and pictures testifying to the full range of Hanns Lohrer's works.
Stuttgart artist Hanns Lohrer has always thrilled those who experience his work and continues to be an inspiration to advertising professionals. The works Hanns Lohrer created for Porsche superbly combined the brand message with the graphic designer's artistic style.