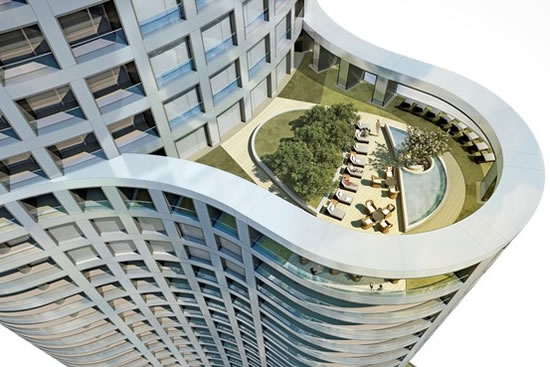 India's heritage for luxury is dating from the first Singh Maharajah. It was him who had this idea to create "suites".
After inviting Jade Jagger to design houses, the Lodha Group has added new heights to the super luxury living in Mumbai, India with World One – the world's tallest residential tower. The builders have hired Giorgio Armani to design Best in Class apartments in the world's tallest residential building that is said to be sold at for more than 10 Mio dollars. Giorgio Armani, renowned for architectural lines in fashion will be designing luxurious apartments in India, a new challenge for the well known fashion designer.
The 406.8Mio dollars World One project is slated to come up in Central Mumbai with prices starting at 1.5Mio. At the unveiling of the first sample apartment, Lodha managing director Abhisheck Lodha said, "It is a privilege for us to partner with Armani/Casa for the interior design at The World Towers. We are committed to providing our customers with excellence in luxury living and we intend to ensure that every single element respects the best standards of quality and aesthetics."
The project will be ready by 2014 and will feature two towers, the World One with 117 floors and the World Crest that is 700 ft high. The World Towers will be the first design in Asia by the Armani/Casa Interior Design Studio, with each residential unit exclusively featuring Armani/Roca bathrooms and Armani/Dada kitchens.
Will these apartments become a collectible ? A good investment, for sure even if you don't plan to live in India!