Audi is introducing a new, exclusive model – the A8 L Security. The long-wheelbase high-security version of the A8 meets the strictest guidelines in force for civilian vehicles, with a host of special security features available in addition to its heavy armoring. At sales launch Audi will offer the W12 engine, with another unit to follow in 2012.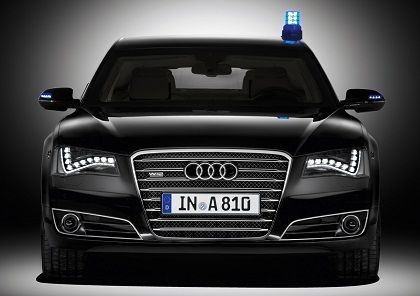 For Audi A8 L Security customers, a multitude of special options are available for enhanced security.
Among these is the emergency exit system, a technology patented by Audi. When the driver or rear passenger presses a tamperproof switch and pulls one of the inside door handles, pyrotechnical separating screws in the hinges detach the door from the body. The door can then be knocked out with a slight push.
Another security feature is the fire extinguisher system, which is activated via heat sensors or by pushing a button. The extinguishing agent flows from two canisters installed in the luggage compartment through two tubes running along the underfloor. Nozzles spray the agent into the wheel arches, onto the underfloor, onto the tank, and into the engine compartment.

The emergency fresh-air system operates with two oxygen cartridges housed in the protected area.
At the push of a button, the system supplies fresh breathing air to the interior via vents in the roof lining. The supply lasts long enough for the car to pass through a danger zone or get out of a danger zone it is currently in. The system works by generating positive pressure in the vehicle interior to prevent toxic gases from penetrating the cabin. Yet another option is what Audi calls security start – a feature that allows the driver to start the engine remotely via a radio signal.
Numerous additional solutions round out the offering: a smoke extractor for the passenger compartment, an LED signaling system for convoy travel, flashing lights, a siren, a preparation for professional mobile radio systems, a flag holder, a permanently installed telephone, an accident data recorder, an additional rearview camera and a heated windshield plus partially heated side windows. Going beyond all of this, Audi will also ensure customers' special requests are taken care of an individual basis.
[adsenseyu1]