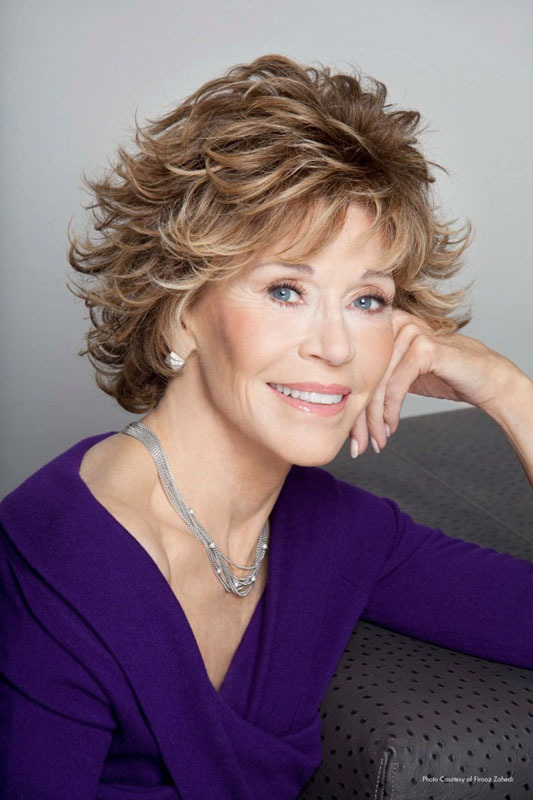 Sir Howard Stringer, Chair of the American Film Institute's Board of Trustees, announced the decision to honor actress Jane Fonda with the 42nd AFI Life Achievement Award, the highest honor for a career in film. The award will be presented to Fonda at a gala tribute on June 5, 2014 in Los Angeles, CA.
"Jane Fonda is American film royalty," said Stringer. "A bright light first introduced to the world as the daughter of Henry Fonda, the world watched as she found her own voice and forged her own path as an actor and a cultural icon. Today she stands tall among the giants of American film, and it is AFI's honor to present Jane Fonda with its 42nd Life Achievement Award."
The Academy Award-winning actor of KLUTE (1971) and COMING HOME (1978), Fonda has starred in more than 40 films since her screen debut. Spanning decades, her diverse career features celebrated comedies – including CAT BALLOU (1965) and 9 TO 5 (1980) – as well as powerful dramatic performances such as THEY SHOOT HORSES, DON'T THEY? (1969), JULIA (1977), THE CHINA SYNDROME (1979), THE MORNING AFTER (1986) and ON GOLDEN POND (1981) – in which she starred with her father, Henry Fonda, the AFI Life Achievement Award recipient in 1978. More recently, Fonda appeared in Lee Daniels' THE BUTLER (2013), and currently stars in Aaron Sorkin's HBO series, THE NEWSROOM.
The highest honor given for a career in film, the AFI Life Achievement Award was established in 1973. It is presented to a single honoree each year based on the following criteria as mandated through a resolution passed by the AFI Board of
Trustees:
"The recipient should be one whose talent has in a fundamental way advanced the film art; whose accomplishment has been acknowledged by
scholars, critics, professional peers and the general public; and whose work has stood the test of time."
Jane Fonda joins an esteemed group of individuals who have been chosen for this distinguished honor since its inception in 1973. A group that includes her father Henry Fonda (1978), making them the first father/daughter honorees in the history of the award. Kirk Douglas and Michael Douglas share a similar precedent as recipients in 1992 and 2009, respectively.
1973 John Ford
1974 James Cagney
1975 Orson Welles
1976 William Wyler
1977 Bette Davis
1978 Henry Fonda
1979 Alfred Hitchcock
1980 James Stewart
1981 Fred Astaire
1982 Frank Capra
1983 John Huston
1984 Lillian Gish
1985 Gene Kelly
1986 Billy Wilder
1987 Barbara Stanwyck
1988 Jack Lemmon
1989 Gregory Peck
1990 David Lean
1991 Kirk Douglas
1992 Sidney Poitier
1993 Elizabeth Taylor
1994 Jack Nicholson
1995 Steven Spielberg
1996 Clint Eastwood
1997 Martin Scorsese
1998 Robert Wise
1999 Dustin Hoffman
2000 Harrison Ford
2001 Barbra Streisand
2002 Tom Hanks
2003 Robert De Niro
2004 Meryl Streep
2005 George Lucas
2006 Sean Connery
2007 Al Pacino
2008 Warren Beatty
2009 Michael Douglas
2010 Mike Nichols
2011 Morgan Freeman
2012 Shirley MacLaine
2013 Mel Brooks
2014 Jane Fonda.