Keep your home deliciously scented with these diffusers and refills. Extend your intriguingly floral fragrance journey with diffusers from Compoz, Diptyque, L'Objet, Senti, Susanne Kaufmann, Ginori 1735, Norfolk Natural Living, Acqua di Parma, Dr. Vranjes, and more.
COMPOZ Le Compositeur Oil Diffuser with Essentials Discovery Kit Complete with five essential oils
Complete with five essential oils, this kit boasts a luxurious and customisable approach to home fragrance. There's placing a simple diffuser in your living space – the result will most probably be subtle, almost unnoticeable – then there's placing Compoz's contemporary Le Compositeur in the heart of your home, opening the door to a whole new world of aromatherapy benefits. Sitting confidently in among your carefully curated shelves, the bespoke fragrance composer allows you to insert up to five pods of essential oils and adjust their strength to your liking, resulting in a unique aroma every time.
DIPTYQUE Hourglass diffuser – Gingembre, 75ml
Diptyque's diffuser is described by the Parisian brand as "spicy and intoxicating" – it smells of freshly chopped ginger. The fragrance is held in a handmade hourglass vessel that can be simply turned over to release a new cycle lasting approximately one hour.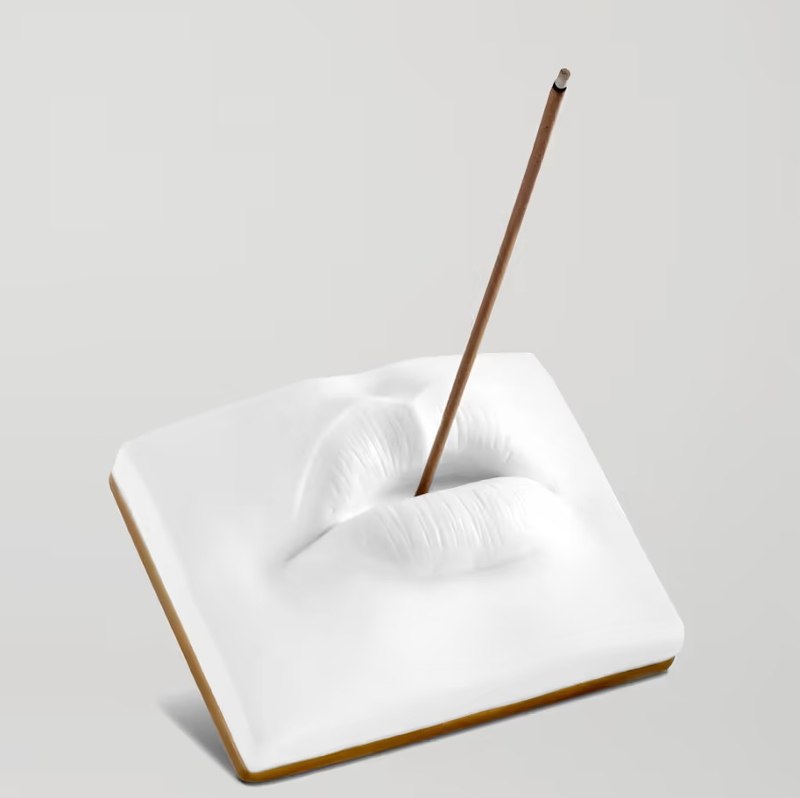 L'OBJET Oh Mon Dieu Incense Holder
L'Objet describes its homeware as "functional works of art" – each piece is made entirely by hand using generations-old techniques. This L'Objet 'Oh Mon Dieu' incense holder is cast from white porcelain to resemble a pair of pursed lips. The accompanying presentation box makes it a great housewarming gift.
SENTI Jasmine and Geranium Diffuser (500ml)
Lovingly crafted through a wealth of experience, Senti's home fragrances have been developed in collaboration with the UK's finest perfumers. Luxuriously presented in the brand's signature black and gold packaging, the Jasmine and Geranium diffuser will infuse your living space with an intoxicatingly sophisticated floral scent.
SUSANNE KAUFMANN Balancing Room Diffuser (250ml)
Susanne Kaufmann presents the Balancing room diffuser, which ignites your senses and relaxes your mind with notes of lemon and orange laced with calming lavender and finished with cedarwood. With a sustainable approach to beauty and fragrance, the Austrian skincare brand is dedicated to keeping its products natural and pure to infuse your home with tranquillity and balance.
GINORI 1735 Purple Hill Incense
Artfully crafted from fine porcelain and detailed with a face-like sculpture to the centre, the delicate vessel brings a decorative touch to your tranquil setting while also serving as the perfect home for the accompanying Purple Hill incense sticks.
NORFOLK NATURAL LIVING Rose Quartz Gemstone Diffuser
Norfolk Natural Living's gemstone diffusers promise to fill your home with the calm ambience of crystals and their healing properties. To use, add a couple of drops of diffuser oil over the stones, allowing them to absorb it, and they will subtly release the fragrance for a lasting effect.
DR. VRANJES FIRENZE Ambra Home Fragrance Gift Set
Dr. Vranjes is known for its rich fragrances with rare components, which is evident in this Ambra home fragrance set. The exquisite blend of an amber and patchouli base – developed with intense notes of sandalwood and vanilla – allows for a relaxing and pleasant sensation. Beautifully presented in a Florentine-style glass bottle – and complete with a handy refill – this diffuser is perfect for any room that requires a little pick-me-up.
2 Bonuses: A luxury car diffuser and a single-use aroma diffuser
ACQUA DI PARMA x Poltrona Frau Leather Car Diffuser
Created in collaboration with the Italian design house Poltrona Frau, this Acqua di Parma case encloses your chosen scent, and is crafted from the interior company's very own Pelle Frau leather – a fabric known for its stain-resistant qualities and sensorial characteristics. Clip it onto your car's grille and enjoy the fragrance as it gently scents the air.
RIPPLE+ Revive Aroma Diffuser
Ripple+ is a small Camden-based business of 10 people, striving to bring you a vegan, plant-based alternative to nicotine. The Revive single-use aroma diffuser is formulated with a lemon scent, ashwagandha and rhodiola to invigorate the mind, balance and calm your senses and bring a zing to hot summer days.