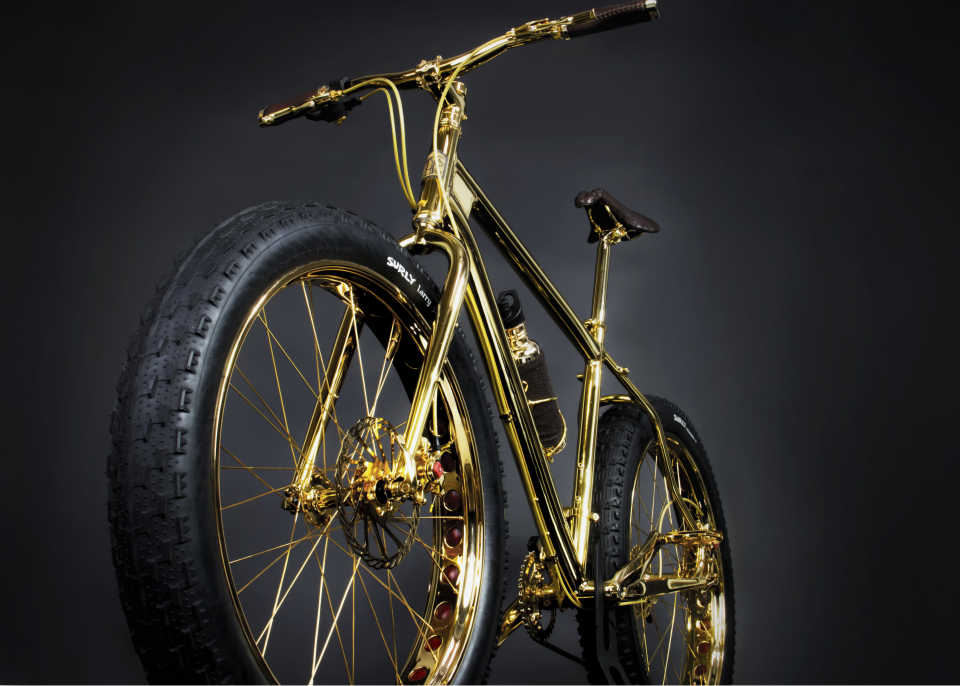 If the idea of outrageous bling meeting all-terrain extreme appeals to your warrior senses, then behold this golden chariot. Unlike any other bike, this handcrafted riding machine elegantly smashes together luxury and extreme-sport functionality. The world's first 24K gold-plated "Fat Tire" bike is sold at a charity auction by Moto Empire and the eBay Giving Works program.
Simply known as "The Gold Bike", this human-powered vehicle is the brainchild of master goldsmith Hugh Power, founder of the "The House of Solid Gold" in Beverly Hills, California.
"From the 24K gold plating, diamond and sapphire accents, to the massive, fat, knobby tires, this work of art is definitely reserved for that individual who can appreciate its stunning allure and rugged wow factor," says the creator of the Gold Bike.
From the entire frame down to the tiniest screw, each bike part undergoes a meticulous electroplating process that liberally covers it in pure 24K gold.
The Gold Bike also features more than 600 black diamonds and 500 golden sapphires that embellish and emblazon The House of Solid Gold logo. The bike's "Fat Tire" design allows cyclists to circumnavigate through sand, snow, mud and other terrain where conventional off-road bikes would get bogged down.
The entire process to build this one-of-a-kind bike requires more than 750 single man-hours over a 2-year time frame.
Proceeds from the sale of the The Gold Bike benefit The Way to Happiness International.