To highlight the art of French lacquer, Maison Hermès gives life to three equestrian scenes from a dream-like Orient in the new Arceau Cheval d'Orient watch. Hermes' enduringly entwined passions for artistic craftsmanship and the equestrian world.
The artisan applies the first layers of lacquer – pigments mixed with a copal-based varnish – while respecting three days' drying time between each coat, before proceeding to extremely fine sanding and adding the following layer. Building the work in stages, the lacquer specialist repeats this alternating process of careful gestures for many weeks, adding up to 30 or so coats in order to achieve a deep black base.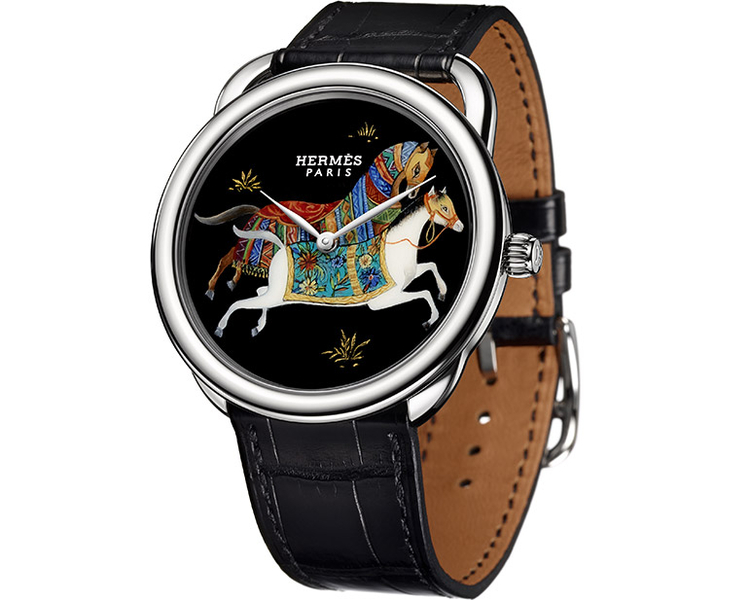 Hermès watch artisan then turns artist. After outlining with a pencil the contours of the design on the perfectly lacquered dial, comes the preparation of the palette of colours, finely crushing and mixing the pigments. The brush is deftly wielded to gradually bring the colours of the motif to life, by applying them one by one in successive coats until the entire pattern is reproduced. No less than 10 days of drying are required before superimposing 20 layers of transparent lacquer, which also require lengthy drying. An ultimate polish then reveals the extreme finesse of the design imbued with the subtle depth and vivid colours that only lacquer can achieve.
Each of  Hermès Arceau Cheval d'Orient watch dials is then assembled in a white gold Arceau model, driven by a Manufacture Hermès H1837 calibre.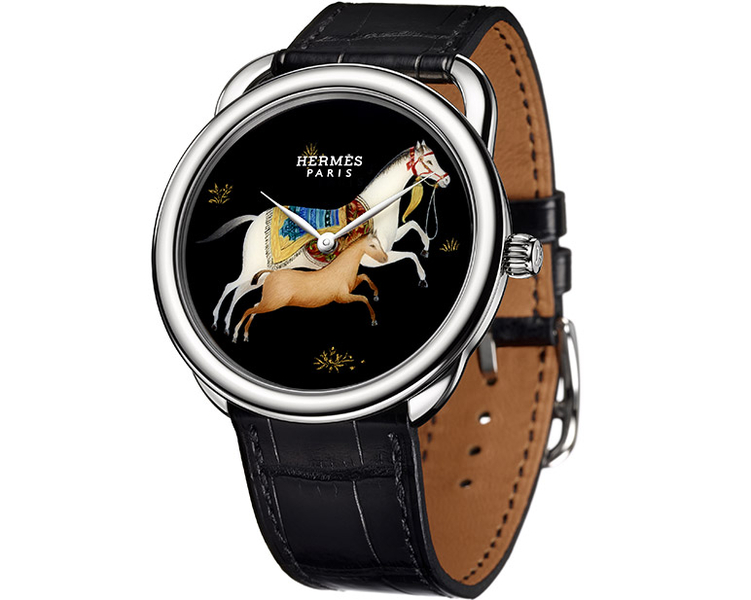 FUNCTIONS:
Hours, Minutes.
CASE:
Round
White gold
Polished
41.00mm.
GLASS:
Sapphire.
YEAR:
2014
MOVEMENT:
Self Winding/Automatic
Manufactured
Swiss Made.
BUCKLE:
Pin Buckle
White gold.
STRAP:
Alligator.
WATER RESISTANCE:
3.00atm / 30.00m / 100.00ft.