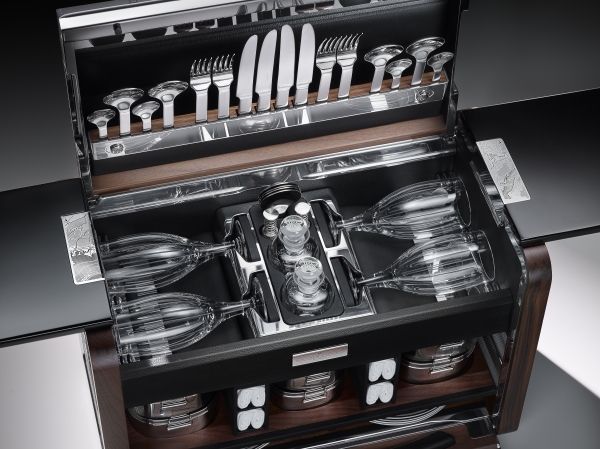 Embodying the concept of the picnic as an occasion to be savoured and appreciated, the picnic hamper can soon become a standard item in high-end luxury cars. A new picnic hamper presented by Rolls-Royce will serve as a true collectors' piece. The Phantom Zenith Collection Picnic Hamper is on display at Pebble Beach Concours d'Elegance, California from 17-21 August.
As preparations for the eighth-generation Phantom limousine commence, Rolls-Royce Motor Cars earlier this year announced it will build 50 specified Bespoke creations named the Phantom Zenith Collection, featuring the much-loved Phantom Drophead Coupé and Phantom Coupé models, both of which have been announced to leave the stage at the end of 2016.
This picnic hamper completes the trinity of objects created under the Phantom Zenith Collection, joining the motor car and a unique metal ingot (a single piece of the Phantom assembly line from the Home of Rolls-Royce in Goodwood, England), which will be presented in the motor car itself.
Upon opening the hamper owners will find inside a unique plaque corresponding to the identification number given to their vehicle – one of just 50.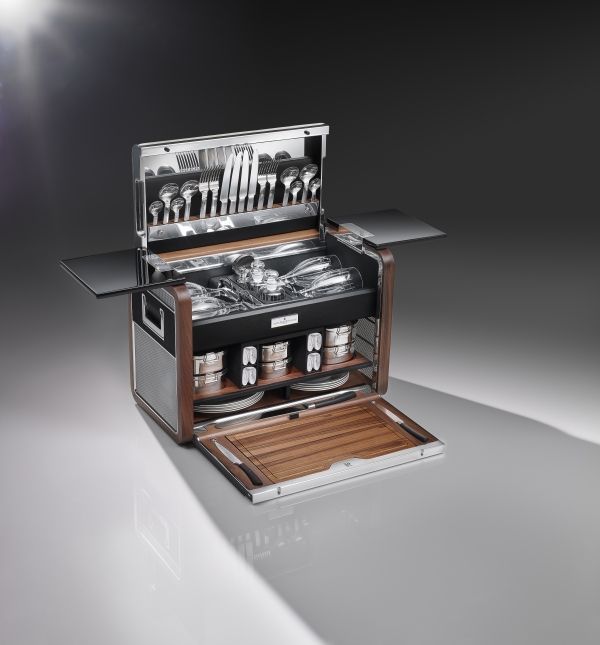 The hamper itself is crafted from American Walnut wood and natural grain leather. Each is finished in a choice of three colour combinations matching the interior of the luxury cars themselves. These include a subtly contrasting Ardent Red leather and black leather piping inspired by a 1929 Phantom II; a contemporary combination of Navy Blue and Arctic White leather piping evoking the genteel ambiance of a the original 1925 Rolls-Royce Phantom II; or a timeless black Anthracite leather with Seashell piping, reminiscent of the 1911 Rolls-Royce Silver Ghost.
The hamper's leather stitching – and a dart of contrast colour on the lid – echoes the interior of the Phantom Drophead Coupé and Phantom Coupé's split tailgate, a private hosting area complete with a cool box, illuminated glass shelf, Champagne holder and a leather seat for two.
Piano Black picnic tables housed within the hamper fold out on milled-aluminium hinges. Like the armrest cappings inside the car, the hinges reference the history of these remarkable motor cars, engraved with the locations of the global debut of the experimental versions of each car – Villa D'Este on the shores of Lake Como for 100EX, the progenitor of the Phantom Drophead Coupé; and Lake Geneva for
the 101EX, the car that would ultimately become the Phantom Coupé.
The leather and wood interior shelving of the hamper contains lead crystal wine glasses, handmade stainless steel cutlery, napkins embroidered with the Rolls-Royce monogram in Arctic White, and a handcrafted American Walnut chopping board. A final flourish, the Zenith Collection Picnic Hamper comprises unique crockery, with painted black and platinum detail around the edges.
Every hamper will be sequentially numbered to perfectly match each owner's Phantom Zenith Collection motor car.