The countdown has begun for the Grande Biennale Internazionale di Antiquariato di Roma that will take place inside the prestigious location of Palazzo Venezia from October 5th to 14th, 2012.
The high quality of this appointment, which offers a place to meet to great Italians and international antiquarian, as for the past editions, will be organized also thanks to solid collaboration, which has become stronger throughout the years, between the Special Board for the Museum Site of Rome, the antiquarians attending, the Association International Biannual Antiques Exhibition in Rome, whose contributes guarantees its continuity, prestige and authority, and the company I.C.E. Srl – who takes care of the organizational and logistical aspects – with many years of experience in the field of excellence.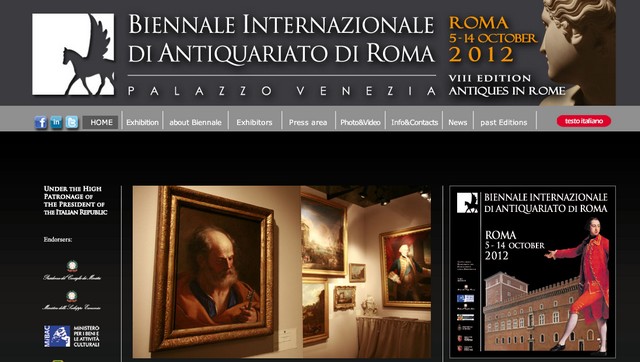 During the 10 days of the seventh edition of the Biannual International Antiques Exhibition accommodated 70 selected antique galleries arriving from Italy and abroad (52 Italians and 18 International antique galleries).The number of visitors, 17.000, has recorded a 51), arriving not only from Rome but even from all over Italy and 10% from abroad.
The Biennale di Antiquariato di Roma is also an important commercial opportunity for the whole city of Rome: galleries owner, antiquarians and collectors from all over the world will meet again in Rome, making the exhibition a prestigious commercial event.