Roberto Faraone Mennella and Amedeo Scognamiglio are the award winning designers behind FARAONE MENNELLA by RFMAS. They draw inspiration for their acclaimed jewelry collections from the classical Italian heritage. The artistic environment of their upbringing along with their eclectic energy, fuel New York City's pop culture and Fashion society.
Each creation is projected to the future, involuntarily anticipating new trends while embracing eternal classical beauty.
Expanding from the "classic" jewels to everyday wear to the most exceptional one of a kind "Couture" pieces. Faraone Mennella always knows how to surprise and make a statement.
Last year, FARAONE MENNELLA just celebrated a Decade of their Fine Jewelry brand. Amedeo said : "Ten years crafting beautiful jewelery, meeting the chic-est women in the world makes life the sweeter and longer"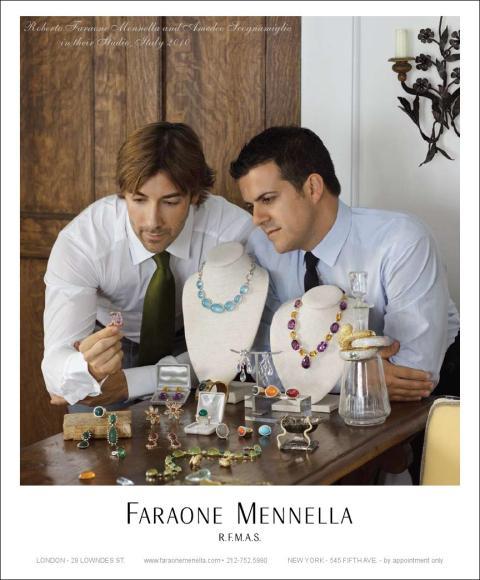 What means luxury to you in one word:
Luxury should always be a unique experience, not repeatable.
What are your models or fundamentals in life which you will recommend to others ?
Roberto and I work and live in, apparently, a very superficial world (Fashion, parties, glamour, celebrities, blingbling): But our roots are very solid; we know that what counts, in our profession, is being creative…"making" beautiful objects of art that women will enjoy wearing for decades and make their own family heirloom. What fascinates us is the process (designing, manufacturing, marketing) of our company: the end results come when you put passion and heart in what you do.
What is your criteria for luxury in order of preference
1. Discreet elegance
2. Rarity
3. Heritage
4. Handcrafted
5. Unique
What is your favourite luxury brand(s) and why ?
Four Seasons Hotel, because they can recreate the same luxury environment in every property of theirs, anywhere in the world. And luxury nowadays is not just defined by a product, but it's a way of living.
Name 5 luxuries which are "indispensable" for you and why :
Frette linens on my bed (we spend most of our lifetime in bed, it has to be comfortable); tailor made shirts and suits (it's quite the norm in Napoli, where I am from, but in the rest of the world "bespoke" is the newest trend in luxury; I just cant imagine not having shirts not made-to-measure); Capri (the most beautiful island in the world, where I grew up spending the entire summer breaks, and where we are opening our first Italian boutique in May 2012); entertaining my friends at my apartment in NYC, cooking for them and spending the night discussing fun and interesting topics; TIME (when you live an hectic lives, always on a plane, always on a deadline…you realize nothing can buy you time!)
Digital and Luxury. Love or Hate ? What means "digital" for you ?
LOVE! I am very social, as a person, so I took social-media very seriously; I think it's the new frontier and it works for every segment of the market. In Luxury it is extremely useful to stay connected at all times and aware of new destinations, new collections, interesting information. It's vital to our lifestyle!