Ambiance Tuning Technique by Dornbracht: Horizontal Shower expands the showering experience.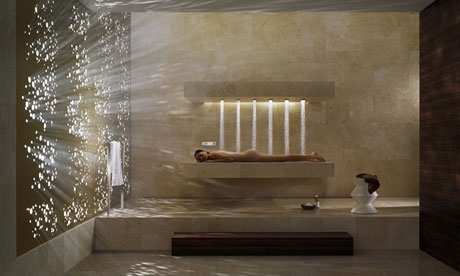 At Swissbau Fair 2012 in Basel (January 17-21, 2012), bathroom fittings manufacturer Dornbracht presented an expansion of the groundbreaking shower technology Ambiance Tuning Technique with the addition of a new application: the Horizontal Shower.
With the Horizontal Shower, for the first time showering with the Ambiance Tuning Technique can be enjoyed lying down.
With this application, Dornbracht is once again setting a trend in the shower area. "Horizontal Shower, we are transporting the showering experience into a new dimension"; notes CEO Andreas Dornbracht. The result is total relaxation, the kind only experienced by someone reclining. Tension in the head and muscles melts away, everyday stress is washed away with the water; body and mind are revitalized."
With Ambiance Tuning Technique, various jet spray settings may be combined to form pre-programmed choreographies of water temperatures and volumes which enhance individual bathroom rituals. These scenarios affect the three human dimensions: body, mind and soul, treating the strength and the spirit of the water so individually that each user can control the effect that the scenarios have on their own moods.