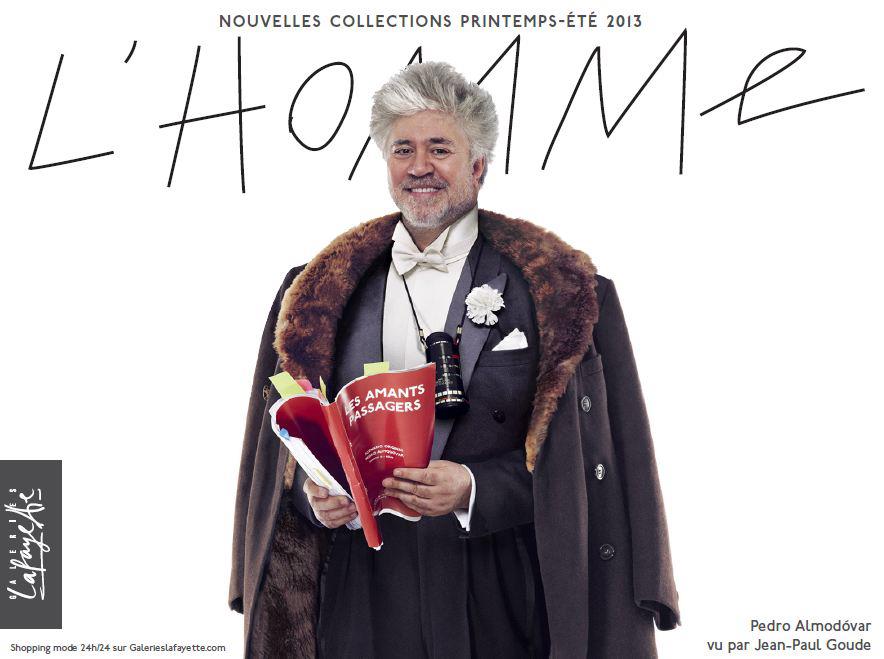 Spanish film director, screenwriter and producer Pedro Almodovar, the most successful and internationally known Spanish filmmaker of his generation, is the new face of French department store Galeries Lafayette.
French graphic designer, photographer and advertising film director Jean-Paul Goude, the store's iconic photographer, portrayed Almodovar holding in his hands the script of his next film "Les Amants Passagers," (Los amantes pasajeros) which is due out in March.
"Pedro Almodovar's pioneering spirit and sensitivity to style, in line with the philosophy of Galeries Lafayette, is revealed through an elegant portrait, unveiled in May on the occasion of the inauguration of men space. It echoes the frenzied atmosphere surrounding the Cannes Film Festival in the same period," explained the Parisian department store located on Boulevard Haussmann in the 9th arrondissement of Paris.
Standing in front of his chair director, Pedro Almodóvar holding in his hands the script of his next film "The Lovers Passengers," which is due out in March. The top of her appearance shifted dandy, it expresses an amused look, lending a sympathetic note in Table self-deprecating.
According to Galeries Lafayette, Jean-Paul Goude was inspired by Serge Diaghilev, the legendary creator of the Russian Ballets, called an "arbiter of elegance".
Galeries Lafayette will open their first store in South East Asia on summer 2013 at the Pacific Place Mall. The store will spread into more than 4 floors.