In celebration of the US arrival of the BMW i8, a one-of-a-kind 2014 BMW i8 Concours d'Elegance Edition will be auctioned during the weekend of the 2014 Pebble Beach Concours d'Elegance.
The 2014 BMW i8 Concours d'Elegance Edition will feature BMW Individual Frozen Grey Metallic exterior paint. The unique interior will boast Dalbergia Brown leather upholstery, which is tanned using dye derived from plant extracts. The upholstery is accented with stitching in BMW i Blue. The Pure Impulse Tera World interior includes other trim accents in BMW i Blue, including the seat belts, as well as having "BMW i8" embossed into the front headrests.
The BMW i8 is arguably the most innovative sports car on the road today. The plug-in hybrid all-wheel drive powertrain combines an electric motor to drive the front wheels and a powerful and efficient 1.5-liter BMW TwinPower Turbo three-cylinder gasoline engine driving the rear wheels. The BMW i8 is capable of driving on pure electric power at speeds up to 75 mph for approximately 20 miles, producing zero tailpipe emissions. When the gasoline engine joins forces with the electric motor, together they are capacity of propelling the i8 for 0-60 mph in 4.2 seconds and to a top speed of 155 miles per hour. Thanks in part to its passenger cell constructed out of lightweight carbon fiber reinforced plastic, The BMW i8 will deliver fuel efficiency normally associated with the stingiest subcompact. The lithium-ion battery pack that powers the electric motor can be charged from any 240-volt level 2 charging station as well as a conventional 110-volt outlet.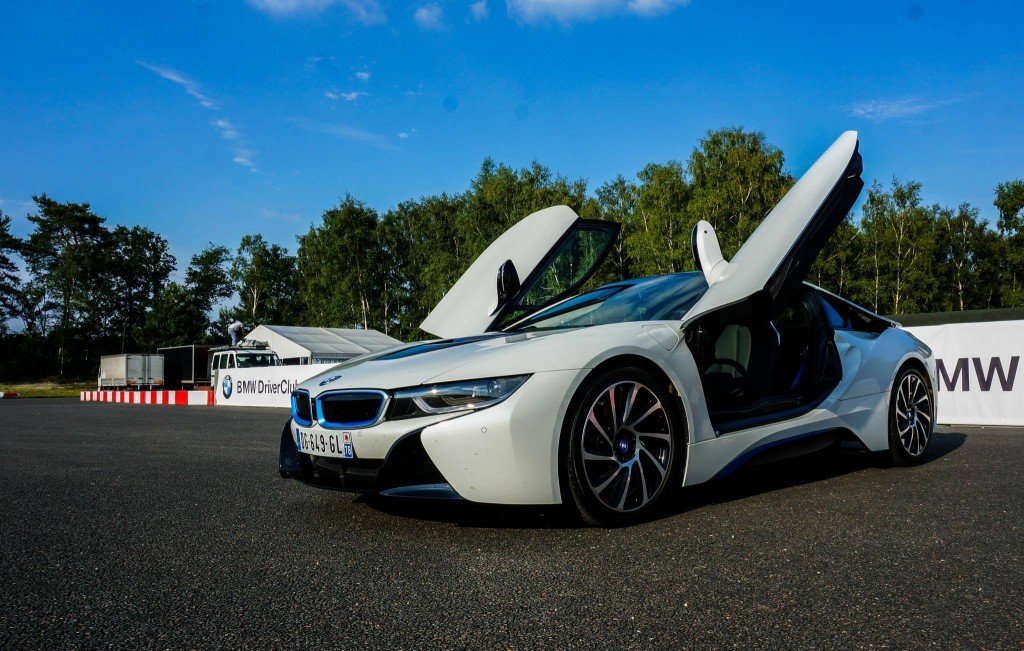 The BMW i8 is the world's first series-produced vehicle to be made available with innovative laser headlights as an option. These generate a pure-white, extremely bright light that is pleasant to the eye by carefully converting the beams emitted by tiny laser diodes using a fluorescent phosphorous material inside the headlight. The laser diodes are ten times smaller than conventional light-emitting diodes, helping to save space in the headlight unit and also to reduce weight.
The words "Concours d'Elegance Edition" i8 will be laser etched in the interior, further marking this as truly one-of-a-kind. The car will be sold at the Pebble Beach Auctions presented by Gooding & Company on Saturday, August 16 at the Pebble Beach Special Events area.
To celebrate its 100th anniversary in 2016, BMW could launch, acording to AFP & the German website Auto Motor und Sport, a new and improved edition of its i8 hybrid coupe called BMWi9.