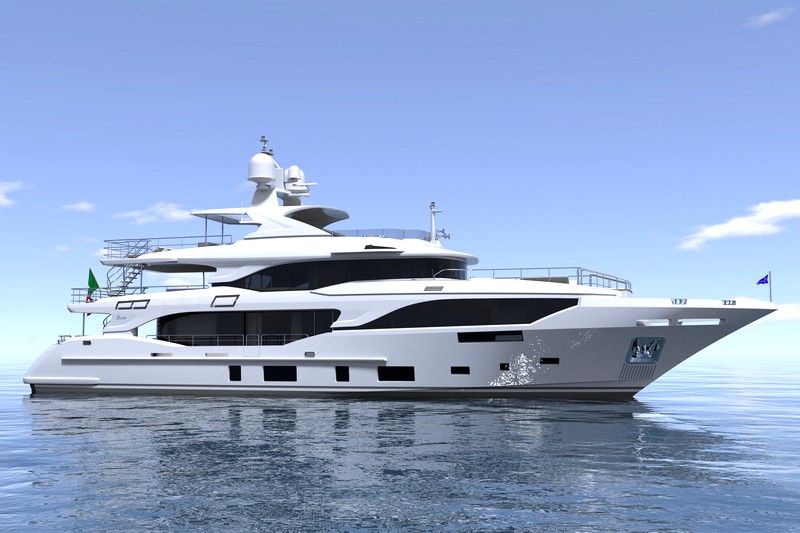 The new Mediterraneo 116' is the new Class Displacement series' model from Benetti to be premiered at the 2016 Cannes Yachting Festival (06 – 11 SEPTEMBER 2016, Cannes, France). The 35,5-meter yacht is characterized by smooth and slender lines. The 6-meter wide cockpit allows a panoramic view of the sea right forward with intelligent use of ergonomic spaces. Lots of space is dedicated to fun and entertainments on the external area, with a huge area on the upper deck completely customizable. Performance is guaranteed by two Man V-12-1400 developing 1,400hp each, giving the 116′ a top speed of 15 knots. At ten knots, the efficient hull design gives the Mediterranean 116′ a cruising range of 3,000 nautical miles.
One of the main focus of the project is surely the brightness theme: the careful superstructure's design provides a sensation of luminosity, amplified by several elements onboard. For instance, the 2-meter- wide crystal doors that from the main deck gives onto the main salon, or the continuous 3-meter tall picture windows. Always in the same salon, in the dining area, two windows give onto the exterior walkway that, thanks to its width, can also be used as a balcony.

Mediterraneo's Guests have at their disposal 4 cabins in the lower deck, each one enriched by a large window that gives an exceptional sea-level view. Excellent design for the crew movement as well, so to grant the perfect privacy and the maximum efficiency.
As the first show in the boating season, the Cannes Yachting Festival is Europe's leading in-water boating event. The major players in pleasure yachting come here to launch the show season by showcasing their new worldwide models. 'Exhibitors and visitors meet in two exceptional French Riviera ports: "The Vieux Port" and "The Port Pierre Canto". Nearly 600 boats are displayed in water and on land in these two ports, including around one hundred world premieres. The shipyards offer trips out to sea so that new buyers can try out the finest yachts in the world and make an informed choice.