New Secret watches: Eight floral creations bloom anew as guardians of time in Le Jardin Van Cleef & Arpels.
Genuine jewels and enchanting timepieces, Van Cleef & Arpels High Jewelry watches presented at 2018 SIHH –  Salon International de la Haute Horlogerie Genève depict the passage of the hours with a precious sparkle. This year, the luxury jewelry Maison has given pride of place to flora.
Nature – one of the Van Cleef & Arpels' favorite themes –has instilled its rhythm, freshness and perpetual metamorphoses into eight new floral creations. Secret watches feature prominently, creating a sense of surprise and wonder that perpetuates the Van Cleef & Arpels' much-loved tradition of mystery. With their skillfully hidden dials, these elegant and inventive pieces allow their wearers to tell the time discretely, in keeping with rules of courtesy. At the heart of a jewel-encrusted flower, this game of hide and seek is eternally renewed, providing a secret space for each instant.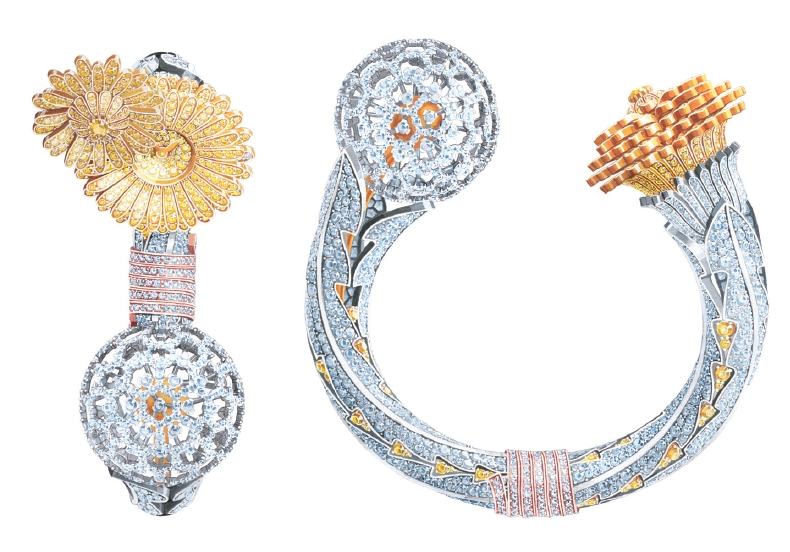 Dandelion Secret watch: Unique piece
(10mm diameter dial in yellow gold, round yellow diamonds; Bracelet in white, yellow and pink gold, round white and yellow diamonds/ Quartz movement)
With twin motifs embellishing each end of a torque bracelet, Van Cleef & Arpels Dandelion Secret watch pays homage to this wild flower's dual nature. White and yellow diamonds alternate along the bracelet to recreate the outline of the leaves, before adorning the feathery seeds and petals respectively. While the corolla's heart pivots to reveal a sun-colored dial, an ethereal diamond sphere employs an en trembleuse mechanism to depict the ball of seeds, which quiver delicately as if about to take flight.

Pivoine Secrète watch – Unique piece
(10mm diameter dial in yellow gold, round spessartite garnets, petals in white gold, round diamonds)
The peony, in its dazzling diamond robe, conceals a hidden dial in its heart of spessartite garnets. The Maison's jewelry-making savoir-faire is here revealed in the movement, delicacy and angle of each petal, which endow the corolla with an exceptionally realistic three-dimensional effect.
Lush green leaves furl around a delicate bracelet in pink gold and pink sapphires. When closed, the clasp forms an elegant bow againstthe wrist, providing this unique piece with the grace of a ribbon.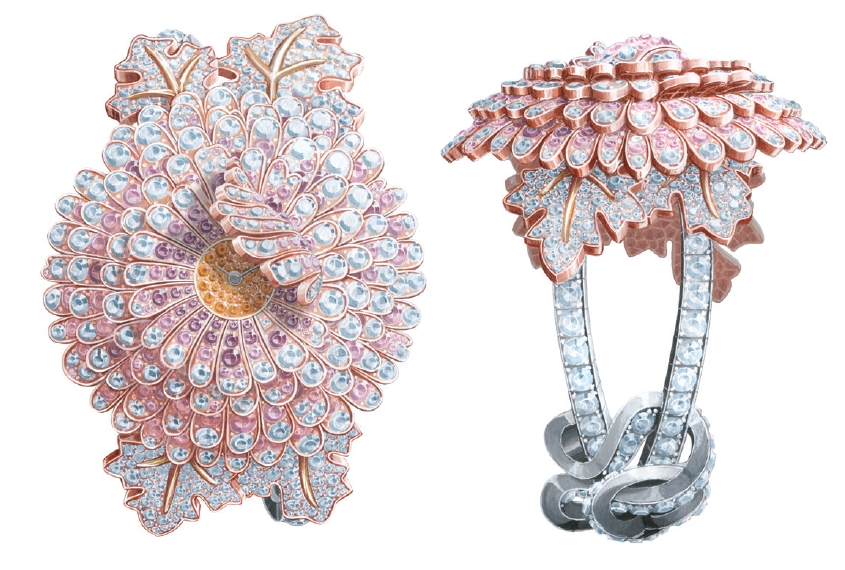 Chrysanthème Secret watch – Unique piece
Thanks to a hidden mechanism, the heart of the Chrysanthème Secret watch lifts up to reveal a dial in autumn colors, set with spessartite garnets. The art of blending stones of varied shades is here equaled by that of shaping and combining different golds: leaves of pink and yellow gold lie gently on a bracelet of white gold and diamonds, forming a delicate backdrop for this striking flower.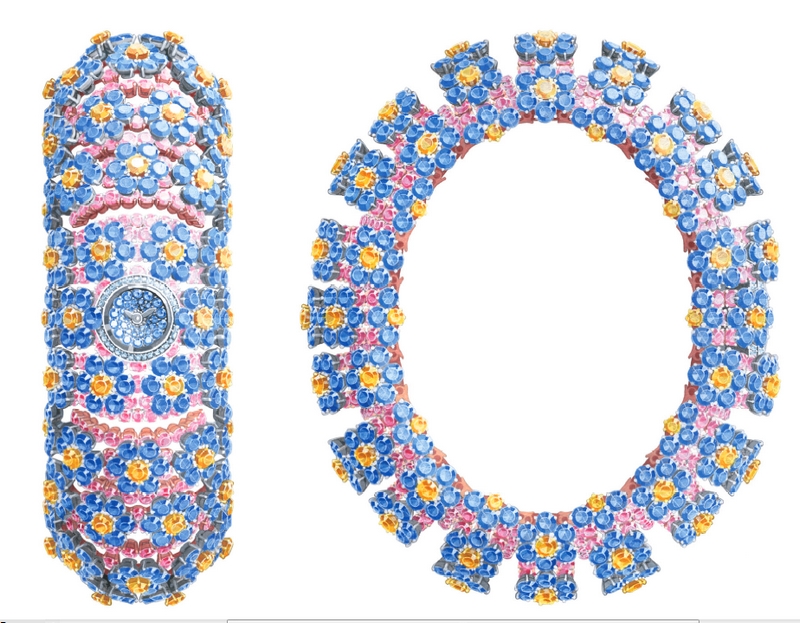 Van Cleef & Arpels Myosotis watch – Unique piece
(12mm diameter dial in white gold, round blue sapphires; Bezel in white gold, round diamonds)
When laid flat, the bracelet reveals a bouquet of wild flowers in gentle yellow, blue and pink shades. Wrapped around the wrist, it takes on a new aspect with the appearance of a bed of pink sapphires beneath the corollas. This creation beguiles the eye with its remarkable volume, split-level articulated structure and precious transformations.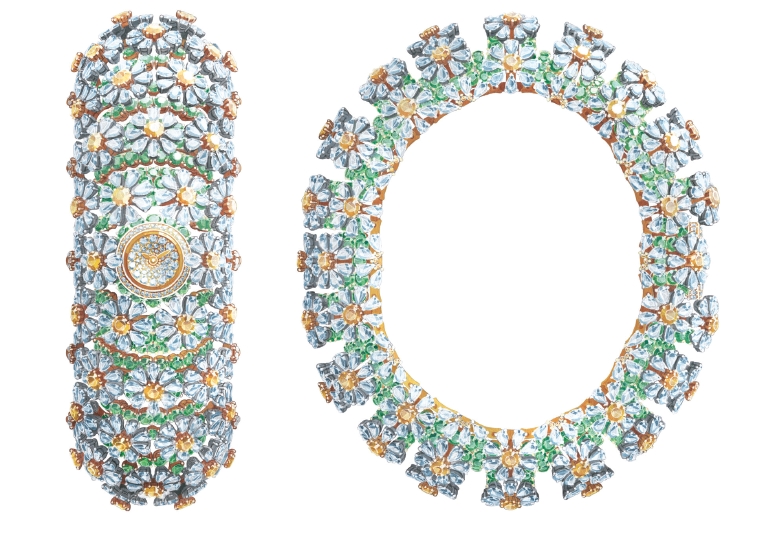 Van Cleef & Arpels Pâquerette watch – Unique piece
Van Cleef & Arpels Pâquerette watch is blending sparkling pear-shaped diamonds with round yellow sapphires to depict the petals. The expanse of daisies seems to come to life when the bracelet is fastened: tsavorite garnets then appear to suggest the grass of a meadow. Entirely paved with white diamonds, a dial sparkles at the heart of the Pâquerette piece, counting the hours in time with the rhythm of nature.

Van Cleef & Arpels Marguerite Secrète watch
12mm diameter dial in yellow gold, round diamonds, petals in white gold, round diamonds.
In keeping with the Maison's tradition of transformable creations, Van Cleef & Arpels Marguerite Secrète watch becomes a clip by assuming the central place in foliage of yellow gold, carved using ancestral goldsmith's techniques.
Van Cleef & Arpels Primerose Secrète watch
The secret dial is revealed thanks to an ingenious mechanism, whereby pressing one of the petals opens up the heart. Well-suited to metamorphoses, the watch may also be worn as a clip, fitted to a mount that combines yellow and white volutes with the sparkle of diamonds.

Cosmos Secret watch
To magnify its brilliance, the petals are covered with diamonds using the technique of serti neige style setting: thanks to careful stone positioning, up to eighteen different diameters of stone can occupy the same surface. They are held in place by beaded grain setting, which adorns the metal like delicate drops of dew. This secret watch can also be worn as a clip, on elegant pink gold foliage set with diamonds.
images: van cleef & arpels.