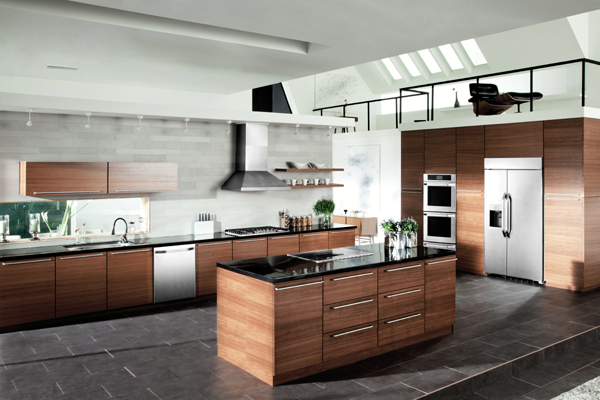 LG Electronics introduced its 2013 "LG Studio" family of premium built-in home appliances at at the 2013 International CES. LG Electronics presented also its first Oled TV with curved screen, and its newest square robotic vacuum cleaner – LG HOM-BOT SQUARE with Corner Master andDual Eye 2.0 Cameras.
The LG Studio flagship model is a built-in, 42-inch side-by-side refrigerator which boasts an impressive 26.5 cubic foot capacity. All Studio refrigerators incorporate LG's energy efficient Linear Compressor, a proprietary technology designed to help keep food fresher for longer and requires less power to operate. LG Studio includes a full suite of modern kitchen appliances including ranges, wall ovens, warming drawers, cooktops, microwave ovens and dishwashers.
"LG Studio is our premium kitchen lineup, showcasing the very latest in smart technology and ultra-modern design," said Seong-jin Jo, President and CEO of the LG Electronics Home Appliance Company. "Having received ENERGY STAR certification and earned industry accolades, our high-quality home appliances reflect an ongoing commitment to excellence."
Working in sync with the Linear Compressor is LG's Smart Cooling Plus technology with unique Dual Evaporators that react quickly to humidity and temperature changes to help keep food fresher, longer. Digital sensors closely monitor temperature and humidity levels to help maintain the perfect temperature for food storage. Meanwhile, the Fresh Air Filter and Multi-Air Flow's strategically located vents in every section of the refrigerator surround food items with cool air.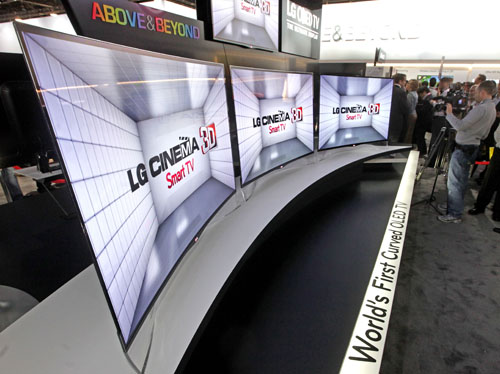 LG Electronics presented also a revolutionary curved OLED TV model, the EA9800. Featuring proprietary WRGB technology, the incredibly thin display features a dramatic curved design and a vivid picture quality that is practically indiscernible from colors found in nature.
The unique new EA9800 model features the industry's very first curved screen ergonomic design with full CINEMA 3D support. With a gentle inward flex, the entire screen surface is equidistant from the viewer's eyes, removing the problem of screen-edge visual distortion and detail loss. Availability and pricing were not announced.
The newly introduced HOM-BOT SQUARE cleans effectively and efficiently thanks to Corner Master, which is comprised of two long brushes, Corner Detecting Sensors and the cleaner's unique shape. With its more angular form and newly designed brushes that have been lengthened by 1.5cm, the HOM-BOT SQUARE can remove dust and dirt from the tightest of corners. The Corner Detecting Sensors enable the smart cleaner to pinpoint its exact location in the home, telling it when to turn or if it has reached the edge of a room.