International glass artist Jon Kuhn's dazzling Kuhn-Bosendorfer art case piano.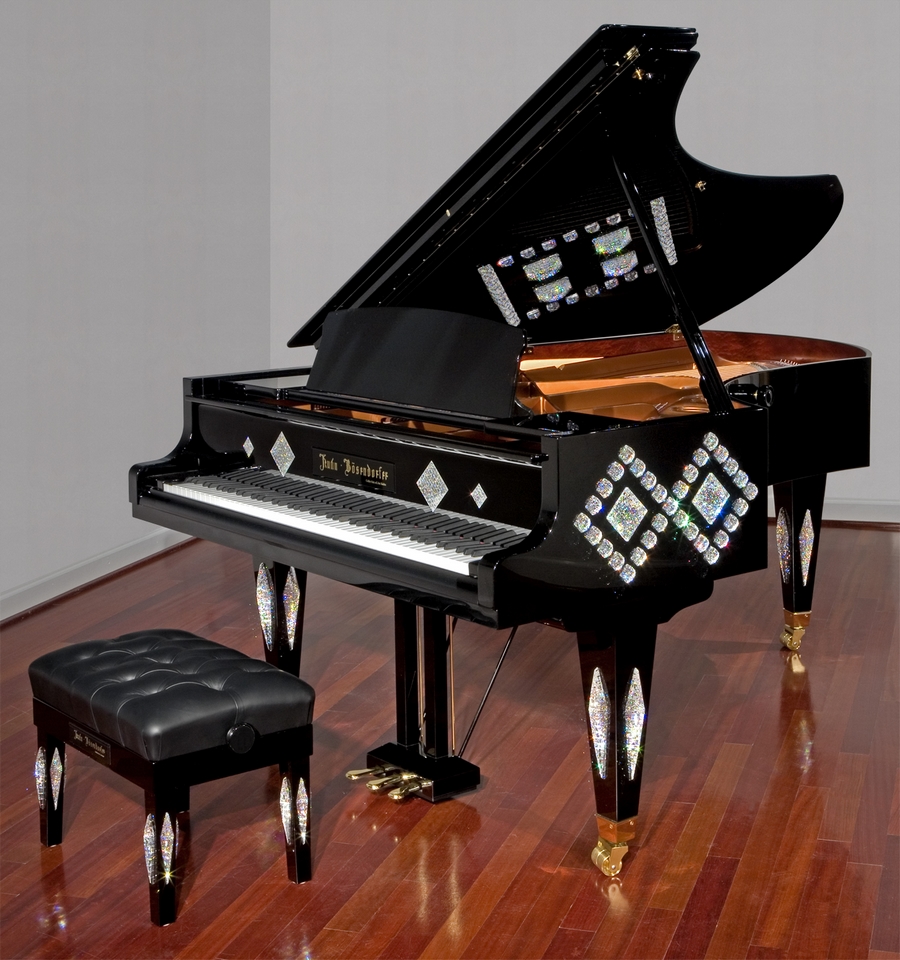 Jon Kuhn's work is known for its intricate design, astonishing clarity and colors that sparkle and shift as the viewer changes position. His glass sculptures are found in the collections of over 40 museums, including the Metropolitan Museum of Art, the Smithsonian American Art Museum, the Carnegie Museum of Art, the Corning Museum of Glass, the Mint Museum of Craft and Design and the White House permanent collection.
The Kuhn-Bosendorfer art case piano, Jon Kuhn's collaboration with Bosendorfer, is based on Bosendorfer's popular 7'4″ Model 225 and is a one-of-kind collaboration between Kuhn and Austria's famed L. Bosendorfer Klavierfabrik GmbH. It is the only co-branded art case piano ever allowed by Bosendorfer, whose hand-crafted instruments have been valued for their exquisite sound and unparalleled playing quality since 1828.
Kuhn's art case piano is a stunning work of art, with 200 intricately crafted jewels of optical grade crystal arranged in diamond patterns on the case, lid, fallboard and bench — as many as half a million hand-crafted facets that glow with warmth one minute and blaze with brilliance the next.
Where will the Kuhn-Bosendorfer be seen next? In a piano museum? A gallery of striking glass art? In an intimate performance space or luxury home? In Dubai's Burj Khalifa, the world's tallest building? On a fabulous yacht, like the mysterious new 590-foot super yacht Azzam or Roman Abromovich's famed Eclipse? In the home of a Chinese art collector in Beijing, Shanghai or Chongqing? In Tokyo, Moscow, Mexico City, Sao Paulo, Mumbai or Delhi? On a New York or Hollywood stage? In a Miami club? In a Dayton, Dallas or Houston concert hall? As a dazzling centerpiece for Crystals at Center City in Vegas, or the Ritz-Carlton in Hong Kong? In Wynn Macau's opulent Bar Cristal?
The art glass piano is available for purchase at $780,000 at Ruggero Piano of Raleigh, N.C., USA, the sole representative for sale of the Kuhn- Bosendorfer.