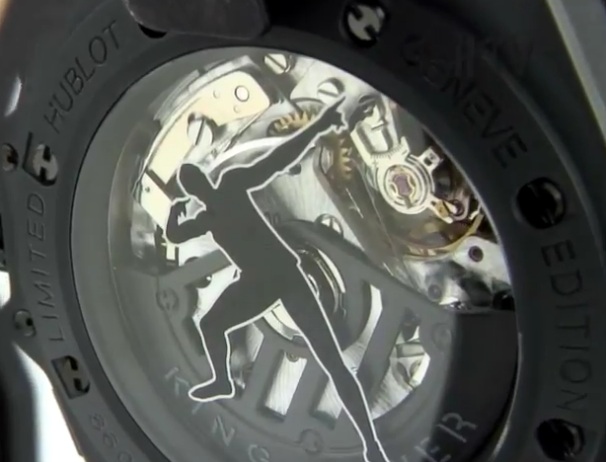 Hublot honors Usain Bolt, the world's fastest man, record-breaking runner, philanthropist and Hublot ambassador with a
signature limited edition watch in black ceramic.
The limited edition (250 pieces) King Power Usain Bolt chronograph (priced at $20,000 US) boasts several nods to the famous sprinter: Bolt's signature "lightning bolt" pose overlaid on the dial and the green & gold colors, symbolizing the Jamaican flag and the runner's racing shoes.
King Power Usain Bolt' strap is made of the same leather as the shoes Bolt wore for his world record-setting 100m and 200m runs at the Olympics Games in Beijing in 2008. This watch was awaited since Hublot announced signed Usain Bolt as an official brand Ambassador in 2009.
Among the news from Hublot is the "King Power Alinghi 4000" watch, a fruit of the collaboration between Hublot and Alinghi. As a brand with roots in the world of sailing, it comes as no surprise that Hublot have chosen the ground-breaking King Power 4000 dive watch as the canvas for this new series of Alinghi watches. Inspired by the hulls of the Alinghi Extreme 40 and Decision 35 catamarans, the King Power Alinghi 4000 is forged entirely of carbon fiber, an ultra-light yet ultra-hard composite, and the dial bears the Alinghi logo on the dial, with markers in the iconic Alinghi red; including luminous hands.
Hublot has become a partner of the Swiss Pavilion that is taking place at the World Expo 2012 in Yeosu, South Korea. One of the main themes at this year's World Expo is "The Living Ocean and Coasts". Switzerland has created a unique interactive way of experiencing water in "The Source. It's in your hands" part of the expo.