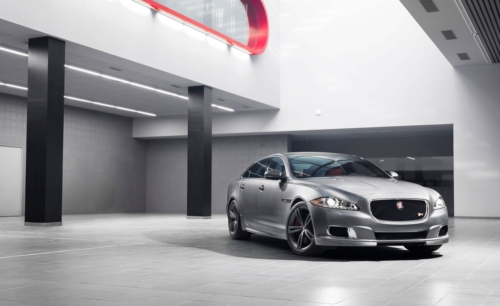 Jaguar will expand its R performance lineup with the global debut of the 2014 Jaguar XJR Sedan at the 2013 New York International Auto Show. The new high-performance model – the dynamic flagship of the XJ series – will join the expanding Jaguar lineup on display that includes All Wheel Drive sedans and the exciting Jaguar F-TYPE Convertible. The New York Show will feature Jaguar R performance models alongside the other newest members of Jaguar family: the Jaguar F-TYPE Convertible and Jaguar XJ and XF All Wheel Drive sedans.
According to Jaguar, the 2014 Jaguar XJR will be the highest performance XJ sedan with 550-HP and a raft of other modifications, but also an extraordinary opulent machine with more than expected levels of interior luxury.
"Jaguar is growing its product lineup to meet a far wider spectrum of customer demands ranging from sedans with 2.0 liter and 3.0 liter engines and All Wheel Drive to the exciting new F-TYPE sports car," said Andy Goss , President, Jaguar Land Rover North America. It is clear that performance will continue to lie at the heart and soul of the brand. To that end, the growing R performance lineup offers our customers the truly elevated dynamics and design, but in a Jaguar luxury package. The Jaguar XJR is a British performance machine that delivers emotionally and dynamically on the road and on the track."
In the 2011/12 fiscal year, JLR achieved record profits of £1.5 billion, an increase of £392m when compared to the previous year.