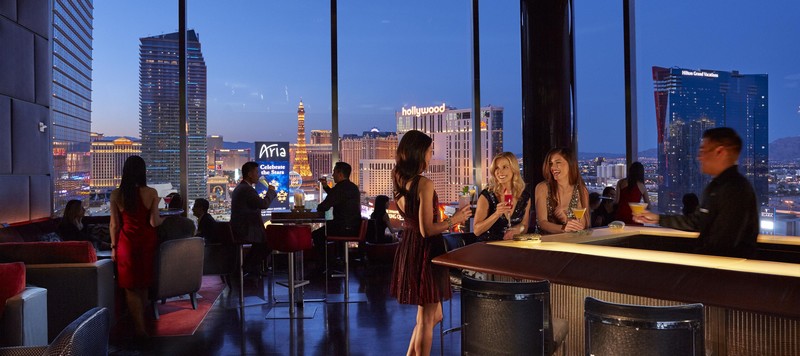 In Vegas, you can drink in style. Actually, you can do a lot of things in style in Las Vegas. You can go to top-of-the-line restaurants, stay in some of the most exquisite hotel rooms and see eye-popping shows. The desert wonderland is a sure thing when it comes to style.
A simple Google search for "drinking in style in Las Vegas" gets you plenty of options for incredible bars and lounges for boozing in style. But the one thing that separates Vegas from most other glitzy American metropolitans when it comes to drinking, is the "open container" law.
The Open Container law stipulates that you can drink while walking up and down The Strip (or anywhere else in Vegas for that matter.) To Europeans it might sound like a small thing, but any American will tell you that being able to walk a street with a beer in hand sounds pretty nice. To get familiar with more of Vegas' drinking rules and regulations, check this report by Simba Games about drinking in Vegas' casinos.

Is Drinking on the Street the Opposite of Luxury?
Not necessarily. While walking & drinking can be viewed as juvenile to some extent, not something a gentleman would do, it can be actually pretty classy if played right. Carry your Forty and drink straight from the bottle – that's not categorized as a classy act. But imagine a smartly-dressed, well-groomed individual calmly strolling with a cocktail glass in hand – now that's a sight.
That is to say, luxury is what you make of it. In the famous closing scene of Sideways, Miles, played by Paul Giamatti, drinks a 1961 Chateau Cheval Blanc from a paper cup in a fast food restaurant. The wine, from Bordeaux, is an ultimate luxury symbol –old-world wonder of finesse and refinement, a bottle of fame and longing. Yet Miles, in a desperate, yet self-aware act of brewing irony, chooses to drink it not only in the outmost un-luxurious environment, but also from a plastic cup that to any wine enthusiast would be considered an act of blasphemy, no less.
So, is drinking a mighty luxurious wine in such surrounding hurts the perceived value of such a bottle? Will the finest foie gras taste any different served on a porcelain plate as opposed to a plastic one? Is luxury merely in the eye of the beholder?

You Can Always Opt for a Hip Flask
Back to Vegas for another alcoholic stroll. I brought up the whole plastic cup thing because while you can drink outside in Vegas, you're not allowed to use a glass container; that includes beer and wine bottles. So even if you choose to leisurely pace the streets of Vegas with a smoky, single malt scotch aged for 18 years in oak barrels, you will have to do it with a plastic cup in hand, not your favorite crystal rock glass. Or, as Flaskaholic suggests in an amusing article, you can carry a hip flask while in Vegas in order to avoid plastic and circumvent the new stingy free drinks policy of some of the main casino operators.
A hip flask can actually provide an air of finesse and old-school charm. When in Vegas though, make sure you are carrying a flask not made of glass; you can go with the classy pewter hip flask, or the current hipster option of titanium flask.

Create Your Own Luxury
So again – is drinking from a plastic cup degrades the experience of fine alcohol? Riedel, the famed wine glass company, argues that it definitely does. They became world famous for creating specific wine glasses for every grape variety; a special glass for Cabernet Sauvignon, a glass for Chardonnay, one for Pinot Noir and so on. They made a name for themselves conducting public tastings where they let you try drinking the same wine from their specialized glass and from an ordinary glass. The difference is indeed striking. Their specialized glasses do bring out the best of each and every wine. Add to that the fact that their glasses are beautifully designed, and you got a true luxury experience.
At the end of it, it is mostly up to you. Your experience will be what you make of it. One cannot argue that drinking a cocktail prepared by a pro mixologist in a stylish Vegas bar constitutes a luxurious experience. But when it comes to making your own experience, in the case before us, on the streets of Las Vegas, the luxuriousness of the experience is totally up to you.
Strolling hand in hand with your loved one while sipping a fine wine or liquor, sharing a moment and fully being in it, even if plastic touches your lips, the experience can be a memorable one. And it should be.
An article by Alex Walker