JW Marriott Phu Quoc, Emerald Bay Debuts On Vietnam's Pristine Island Oasis. Indigenous experiences, world-class dining and authentic Vietnamese hospitality combine to create possibly the finest luxury retreat in Asia.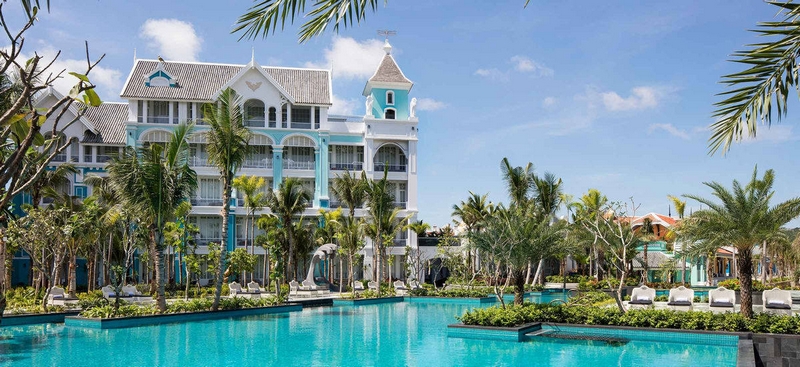 Phu Quoc, Vietnam's largest island, is a hidden paradise located on the southern coast of Vietnam. This stunning destination offers guests a variety of experiences, from white-sandy beaches to dense tropical jungle, and now with the addition of the JW Marriott brand, travelers will really have it all. The opening of JW Marriott Phu Quoc, Emerald Bay celebrates the arrival of the first international luxury hotel to this picturesque island paradise.
Designed by award-winning interior designer Bill Bensley, the hotel offers 244 guestrooms, suites and villas for an idyllic island retreat. JW Marriott Phu Quoc, Emerald Bay is the second hotel for the brand in Vietnam, and joins a portfolio of more than 80 JW Marriott hotels across 25 countries.
The resort offers five distinct restaurants and bars. Tempus Fugit (which translates to 'time flies') offers authentic Vietnamese cuisine, contemporary Japanese fare and classic French delights; French & Co is sure to satisfy any sweet tooth with its signature pastries and desserts; Red Rum features fresh, local seafood dishes served beachside; Pink Pearl is scheduled to open this spring and will serve Cantonese cuisine in a
beachfront setting; and Department of Chemistry, offers local elixirs with views of beautiful Emerald Bay.
Daily activities ranging from Vietnamese martial arts and lantern making, to cooking classes and wellness activities such as boot camp, yoga and island excursions, are also available, or for a less strenuous option, the resort's private beach and three outdoor pools provide an idyllic place to relax.
The hotel also boasts a Spa by JW, the new spa concept created by the brand "to demystify and reimagine the spa experience with treatments based on four benefit states." Each of the spa's eight treatment rooms are equipped with a private rainforest shower, steam room, sauna, and treatment area.