The new ROTWILD GT S inspired by AMG Limited Edition.
The professional feedback from the top athletes in the AMG ROTWILD MTB racing team lead to the creation of the new ROTWILD GT S inspired by AMG mountain bike. This is the second mountain bike to be jointly presented by Mercedes-AMG and Rotwild.
The special model limited to 100 examples combines ultra high-performance materials with highly sophisticated suspension technology. During the development stage the ROTWILD GT S inspired by AMG demonstrated its qualities with a world championship title for the juniors.
Specifically developed for sporting competitions, all the components meet the highest racing requirements. According to Rotwild general manager Peter Schlitt: "Just as AMG, we have paid very particular attention to the ride dynamics and fitted only the best technology for the ROTWILD GT S. As a result ride enjoyment lives up to expectations, even under the harshest of conditions."
"The mixture of bike racing, an unmistakable design and German engineering expertise is the connecting link between AMG and Rotwild," said Tobias Moers, Chairman of the Board of Management of Mercedes-AMG.
High-tech such as Carbon Module Monocoque Technology (MMT2) and EPS Innermold Technology is used, optimising the performance and attributes of the high-modulus carbon fibre. The result is an ultra-lightweight frame with optimum rigidity and ideal damping characteristics. The Formula 33 Factory front fork likewise combines light weight with high rigidity, contributing to consistent riding comfort with adjustable compression and rebound. The effect is completed by 29‑inch carbon-fibre wheels whose unique design keeps the rotating masses as low as possible. Centring the masses around the wheel hub allows fast acceleration and braking.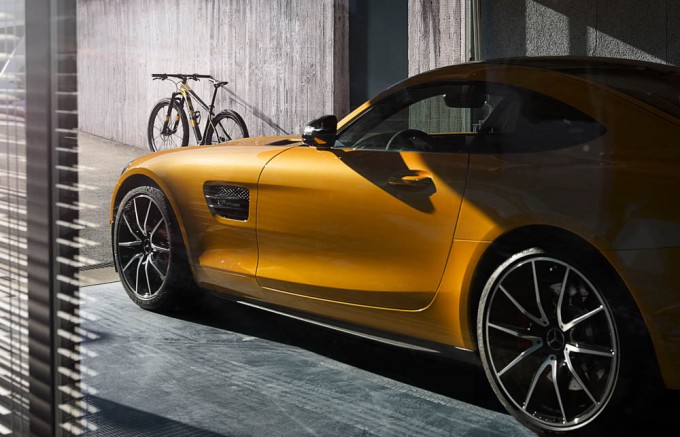 The mountain bike is equipped with Shimano XTR drive technology actuated by electronic gearshifting. This features a multi-shift function and allows several gears to be shifted in sequence. This individually adjustable function ensures an efficient power transfer, short operating movements and reliable, fast and smooth gearshifts.
The brakes were also developed for sporting competition. Weighing only 267 grams, the hydraulic Formula AMG R1 Racing FCS disc brake is among the lightest on the market.
.From May, this hand-built carbon-fibre bike will be available as a limited edition of 100 examples from the ROTWILD sales organisation at a price of €9990.