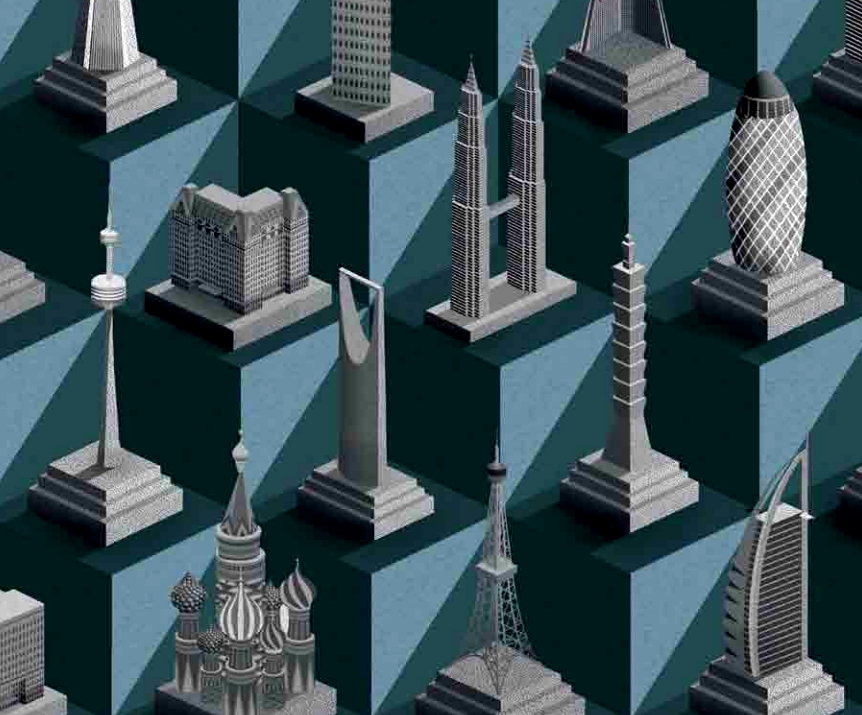 To gauge which cities are considered the most important to the world's high-net-worth individuals (HNWIs), Frank Knight's "Wealth Report 2012" surveyed Citi Private Bank's wealth advisors around the world and Knight Frank's global network of luxury property specialists.
The survey asked which are the most important cities to their clients now, which will be the most important in 10 years, and which are growing in importance the fastest. As well as ranking the leading cities in each category, the research have also broken the results down by region to offer some insight into the cities regarded as most important by HNWIs in different parts of the world.
In addition to our overall rankings, respondents were also asked to name the cities that they felt were global leaders in the fields of economic activity, political power, knowledge and influence, and quality of life.
London took the pole position in almost every category. Survey respondents from all regions bar one voted it the city that matters most to their clients now. Even respondents in Asia Pacific put London and New York ahead of Hong Kong, Singapore, Shanghai and Beijing. Only respondents in Latin America disagreed, putting London in third place after New York and Miami. London and New York remain in first and second place in our league of the leading cities in 10 years' time, suggestingit will be some time yet before their influence fades.
When asked what makes a global city, the top-scoring indicators were personal safety and security, economic openness and social stability, which is perhaps unsurprising given recent geopolitical turmoil around the globe, and goes some way to explaining London's impressive performance. Though deemed less important, the availability of luxury housing and excellent educational opportunities, as well as the presence of other HNWIs, were also noted as key attributes – all of which London and New York have in abundance.
THE CITIES THAT MATTER TO HNWIs – GLOBAL CITIES SURVEY
The most important global cities – Now
1 London
2 New York
3 Hong Kong
4 Paris
5 Singapore
6 Miami
7 Geneva
8 Shanghai
9 Beijing
10 Berlin
11 Moscow
12 Rome
13 Dubai
14 Monaco
15 Frankfurt
16 Madrid
17 Vancouver
18 Sao Paulo
19 Tokyo
20 Mexico City
The most important global cities – In 10 years
1 London
2 New York
3 Beijing
4 Shanghai
5 Singapore
6 Hong Kong
7 Paris
8 Sao Paulo
9 Geneva
10 Berlin
11 Miami
12 Washington DC
13 Rome
14 Moscow
15 Dubai
16 Mumbai
17 Vienna
18 Vancouver
19 Tokyo
20 New Delhi
The most important global cities – Fastest growing in importance
1 Beijing
2 Shanghai
3 London
4 Singapore
5 Hong Kong
6 New York
7 Sao Paulo
8 Dubai
9 Mumbai
10 Paris
11 Berlin
12 Geneva
13 Miami
14 Rio de Janeiro
15 Rome
16 Istanbul
17 Mexico City
18 New Delhi
19 Sydney
20 Vienna
The most important global cities ranked by quality of life
1 London
2 Singapore
3 New York
4 Geneva
5 Sydney
6 Hong Kong
7 Paris
8 Vancouver
9 Miami
10 Dubai
11 Barcelona
12 Madrid
13 Zurich
14 Melbourne
15 Vienna
16 Monaco
17 Houston
18 Toronto
19 Dallas
20 Rome
The most important global cities ranked by knowledge & influence
1 London
2 New York
3 Boston
4 Paris
5 Geneva
6 Washington DC
7 Hong Kong
8 Singapore
9 Beijing
10 Chicago
11 Dubai
12 Shanghai
13 Tokyo
14 Houston
15 Melbourne
16 Miami
17 Mexico City
18 Vienna
19 Berlin
20 Moscow
The most important global cities ranked by political power
1 Washington DC
2 London
3 New York
4 Beijing
5 Paris
6 Berlin
7 Brussels
8 Frankfurt
9 Shanghai
10 Riyadh /Jeddah
11 Singapore
12 Rome
13 Moscow
14 Mexico City
15 Hong Kong
16 Geneva
17 Miami
18 Jakarta
19 Milan
20 Vienna
The most important global cities ranked by economic activity
1 London
2 New York
3 Hong Kong
4 Shanghai
5 Singapore
6 Beijing
7 Dubai
8 Paris
9 Tokyo
10 Frankfurt
11 Madrid
12 Moscow
13 Geneva
14 Bangkok
15 Miami
16 Sao Paulo
17 Rome
18 Mexico City
19 Vienna
20 Berlin
Response by region – The most important global cities Now
Response by region – North America
The most important global cities – Now
1 London
2 New York
3 Hong Kong
4 Paris
5 Miami
Response by region – North America
The most important global cities in 10 years
1 New York
2 London
3 Beijing
4 Hong Kong
5 Washington DC
Response by region – North America
The most important global cities – Fastest growing in importance
1 Beijing
2 New York
3 London
4 Shanghai
5 Singapore
Response by region – South America
The most important global cities – Now
1 New York
2 Miami
3 London
4 Madrid
5 Mexico City
Response by region – Asia Pacific
The most important global cities – Now
1 London
2 New York
3 Hong Kong
4 Singapore
5 Shanghai
Response by region – Europe and Russia
The most important global cities – Now
1 London
2 New York
3 Paris
4 Geneva
5 Moscow
Response by region – Middle East and Africa
The most important global cities – Now
1 London
2 Paris
3 New York
4 Geneva
5 Dubai
Response by region – South America
The most important global cities in 10 years
1 London
2 Beijing
3 Miami
4 New York
5 Sao Paulo
Response by region – Asia Pacific
The most important global cities in 10 years
1 New York
2 Shanghai
3 London
4 Beijing
5 Singapore
Response by region – Europe and Russia
The most important global cities in 10 years
1 London
2 New York
3 Shanghai
4 Singapore
5 Hong Kong
Response by region – Middle East and Africa
The most important global cities in 10 years
1 London
2 New York
3 Paris
4 Hong Kong
5 Geneva
The most important global cities – Fastest growing in importance
Response by region – South America
The most important global cities – Fastest growing in importance
1 Sao Paulo
2 Shanghai
3 Beijing
4 New York
5 Miami
Response by region – Asia Pacific
The most important global cities – Fastest growing in importance
1 Shanghai
2 Beijing
3 Singapore
4 Hong Kong
5 London
Response by region – Europe and Russia
The most important global cities – Fastest growing in importance
1 London
2 Singapore
3 Shanghai
4 Beijing
5 Hong Kong
Response by region – Middle East and Africa
The most important global cities – Fastest growing in importance
1 London
2 Dubai
3 Beijing
4 Hong Kong
5 New York