The most powerful, most exhilarating, and most refined Phantom ever.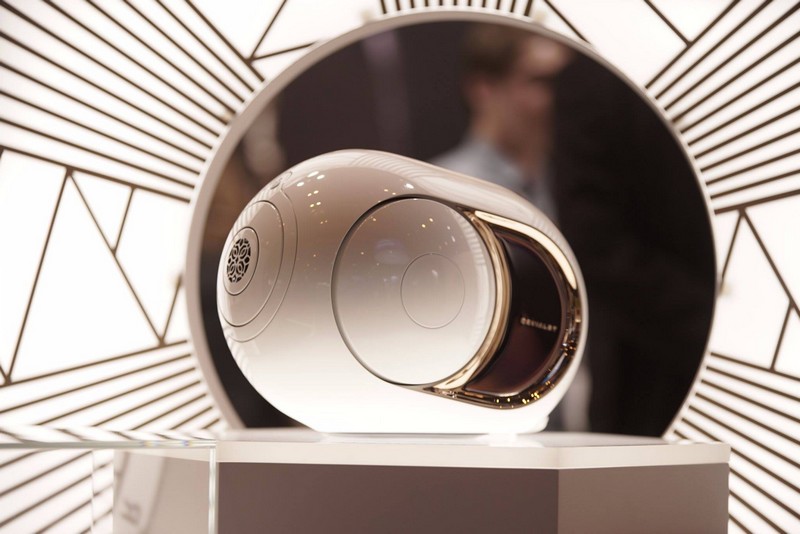 Devialet launched the Most Extreme And Precise Audio Product Ever: "Gold Phantom" with 4,500 Watts Of A/D Power. Packed with new patented inventions, Gold Phantom pushes audio performance to the extreme. Devialet's Gold PHANTOM is the first sub-€2000 sound center that is totally wireless (WiFi and Stereo Bluetooth). It promises to replace all other audio components "to provide a physical and emotional sound experience like no other."
Gold Phantom now represents the highest-end of the acclaimed range of Devialet Phantom audio products, including the original Phantom (750 Watts, $1,990) and Silver Phantom (3,000 Watts, $2,390). Gold Phantom will be available at a retail price of $2,990.
Awarded "Best of CES" from Wired, Rolling Stone and USA Today, the 3000-watt PHANTOM is a compact and beautiful spherical component incorporating 10 years of R&D (with a $30M budget), 88 patents and a team of leading product designers. From sub-bass at 16hz to ultra-sharp treble at 25Khz, PHANTOM creates the ultimate sound with zero distortion, zero saturation and zero background noise through unique Devialet-created technology.
"Capable of reproducing the soundstage and musicality of speakers 20x its size, this is achieved by increasing the maximum air pressure inside the PHANTOM enclosure to the level associated with a rocket launch. By using speakers that are flush with the surface of a perfect sphere, PHANTOM also offers a unique portable design entirely derived from the laws of acoustics and providing a combination of the best music reproduction with an optimal sound directivity pattern," stated Devialet.