5 months until the official launch in Cannes.
Hull redesigned, sloop rigging, open cockpit, luminous and refined interior … The AMEL 50 promises beautiful sensations at sea for navigation programs that vary from the family stroll during a weekend to the cruise on the high seas among friends, via the couple getaway along the coasts.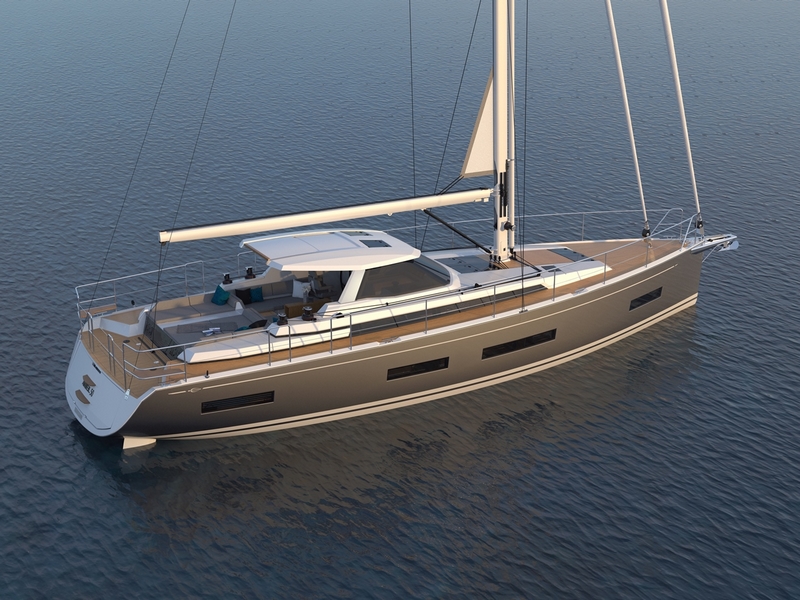 Amel 50 will make her grand international entrance via the boat shows, with her launch scheduled for next September at the Cannes Yachting Festival, set to take place from the 12th to 17th September 2017.
With this 15-metre unit, the La Rochelle shipyard opens the concept to a new category of Les Chantiers Amel's clients, with a wide choice of navigation programs. With more accessible dimensions and price, the Amel 50 is also a high-performance, extremely comfortable yacht, says the yacht builder.
The new yacht is designed to sail around the world but with her less challenging hull length, access to harbours and marinas becomes easier and navigation possibilities expand. The ideal solution for both short-term and long sea trips.
"With this model, the shipyard broadens the scope of use and opens up new prospects at sea. While not aiming to compete with racing yachts, the 50 promises superb sensations, allowing owners to choose the way they use their boat. A family trip for a relaxing weekend break, a coastal getaway for two or a cruise on the high seas with friends … Amel 50 is all of the above," says the French shipyard.
Sloop rigging is added to the range.
One of the qualities of the central cockpit is that it ensures protection during navigation, thanks to its depth and rigid cover. This open cockpit with ergonomic angles extends to the rear, via sun decks that maximise the outdoor living space.
The new Amel 50 can accommodate six people, thanks to the two large cabins each with a double bed and one cabin with bunk beds. There is plenty of storage room; under the beds and the benches, in the wardrobes and lockers. The galley, positioned in the starboard passageway, offers a very generous living area in the saloon, maintaining optimal ergonomics. The chart table is located to the left of the entryway and communicates directly with the entire saloon.
The Amel 50 brings a new silhouette to the range, reflecting the desire for change expressed by the La Rochelle company. While maintaining brand-specific fundamentals, such as safety and manoeuvrability as mentioned above, and remaining faithful to proven expertise, the Amel 50 will charm those customers interested in evolution but who also remain fond of the brand's style and elegance.