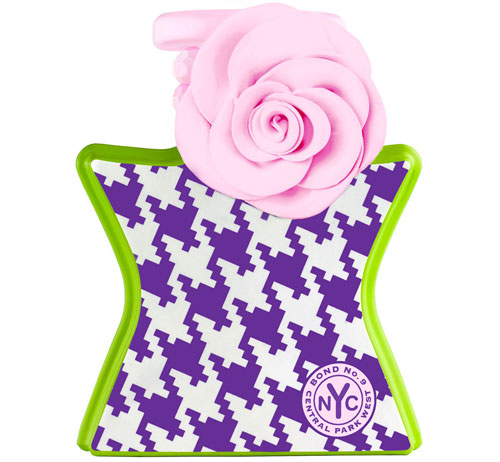 Bond No. 9 made a new scent of New York. The legendary niche perfume manufacturer's mission is to restore artistry to perfumery, and to mark every New York neighborhood with a scent of its own. Bond No. 9 introduces a new fragrance inspired by New York's city parks. Central Park West will be available for purchase starting with March 15, 2012.
Central Park West formula includes narcissus, black pepper, ylang-ylang, gardenia, jasmine, linden, iris, musk, white oak, treemoss, vetiver. The pistachio-colored flacon comes with a detachable pink flower, which can be worn on its own as a broch.
"Elegant thoroughfares with palatial buildings are in evidence elsewhere in Manhattan, but they're the specialty at Central Park West, which urban planners and architectural critics regard as one of the grandest, most sumptuous addresses in America… Central Park West, the fragrance, has been designed to have the grandeur and largesse of the street itself.
It starts off with a springtime wakeup call: Narcissus mingled with tangy ylang ylang and a pinch of piquant pepper. Then comes a beckoning white-petal mélange— orris, jasmine, and linden—surrounding their centerpiece, majestic gardenia. Sustaining and enriching this bouquet is an enduring base of white oak and vetiver, combined with the animal whiff of musk."
Central Park West perfume is available as 100 ml and 50 ml EDP priced at $250 and $180, respectively. The niche perfume will be accompanied by a perfumed body silk (price: $130), a candle ($110) and shower gel ($75).