Monumental – like a whale emerging from the water, slow – like the movement of a giant, the Whaletone, the spectacular piano designed by Polish designer Robert Majkut, is an interpretation of the shape of a classic grand piano in the language of modern design. Inspired by the majestic beauty of marine mammals, it is a unique fusion of greatness and subtlety.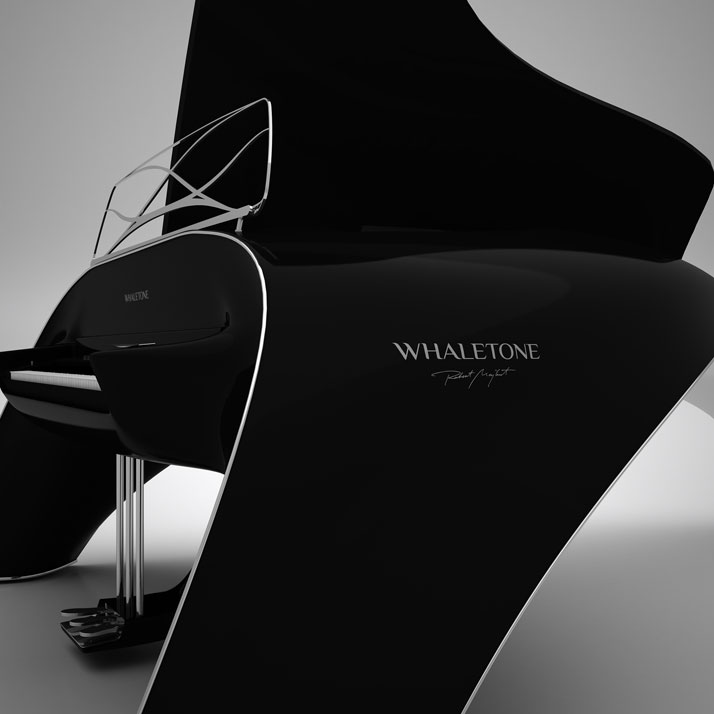 The Whaletone piano is a perfect combination of beautiful design and advanced technology. It contains a flagship model of Roland stage piano with a built-in list of 500 sounds. Thanks to the SuperNATURAL technology, Whaletone produces incredibly authentic sound of a classic piano.
Besides the phenomenal and natural sound of a classic grand piano, Whaletone offers the complexity of programmed tones of vintage models from the 1960s and 1980s, different sounds variations, and possibility of creating new sounds.
All is controlled by the comfortable PHA III Ivory Feel keyboard with escapement imitating the real hammering of the classic grand piano keyboard, giving the identical feeling of playing, with all subtleties and sound effects, perfectly conveying the dynamism, reacting to all details and changes of timbres dependent on the impact.
Additional options, like a CD player, V piano card upgrades, software adding sound modules, LED display, internal sound processor with equalizer, and other individually chosen appliances, Whaletone may be adjusted to personal requirements, configurations, and preferences.
The Whaletone team supports a program protecting endangered whale species. 1% from the value of total sale isdedicated to an organization campaigning for whale protection.