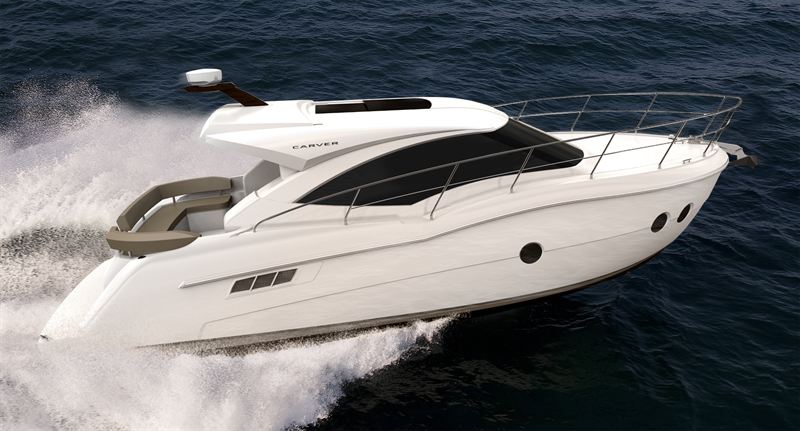 Carver Yachts, The Pulaski, Wis.-based yacht-builder from United States, will unveil the new Carver C37 Coupe yacht on Feb. 13 during the 2014 Miami International Boat Show. Carver C37 is designed for cruising speeds at or above 40 mph, along with delivering all of the homelike spaciousness and exceptional features yacht owners have come to expect from Carver.
The C37 Coupe has a 13′ beam, a planning hull and running surface, which provide enhanced stability and a smooth, dry ride. When equipped with twin Mercruiser 377 Magnum B3 stern drives, the Carver C37 is expected to deliver top end speed in excess of 40 mph. Twin diesel engines are also available.
A key design feature is the C37 Coupe's swim platform design, which has the cockpit, salon, galley and helm station unified on a single-level floor plan. Carver's development of an innovative water-barrier, salon door system means that there are no steps or impediments when walking from the cockpit into the salon. Additional unique features on the C37 Coupe include a power-actuated sunroof in the salon ceiling, extra-wide walkways around side decks, private staterooms, L-shaped cockpit seating and an island berth in the master stateroom.
The first C37 is scheduled for sea trials off the coast of Southern Florida in late January. The yacht will then be on display in Carver Yachts' indoor exhibition (display location C71) at the Miami Beach Convention Center during the 2014 Miami International Boat Show Feb. 13-17.