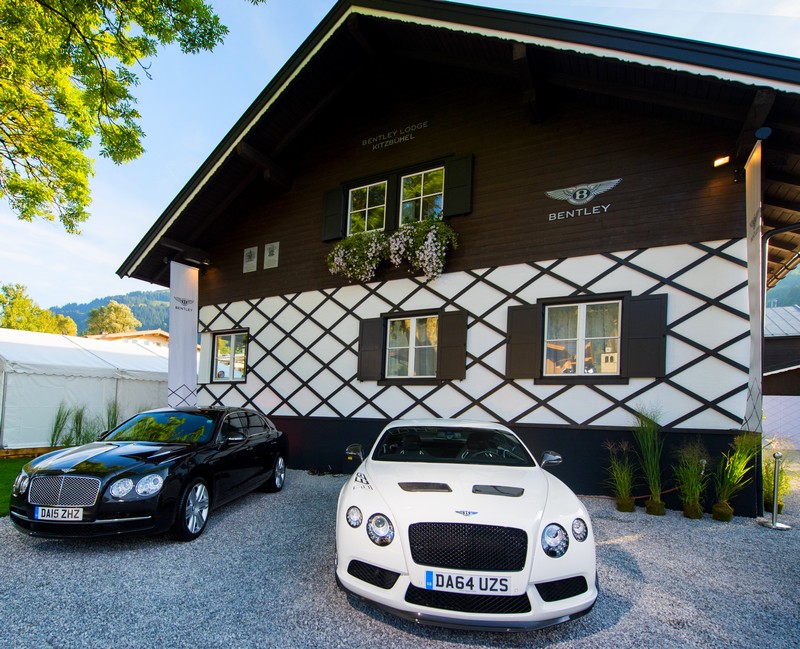 British luxury automaker Bentley welcomed the new Fall-Winter season with the opening of its first ever mountain lodge in Kitzbühel, Austria, the launch of a new luxury leather collection, and the unveiling of full details regarding pinnacle, sector-defining new Bentayga – a model described by Bentley as "the fastest, most powerful, most luxurious and most exclusive SUV in the world".
Nestled in Kitzbühel, one of the most exclusive Alpine hot spots, the first full-serviced and luxuriously furnished Bentley chalet offers a hideaway amid Kitzbühel. One of the latest Bentley models, including the newly launched Bentayga, will be available at all times for the guests.
"With an all-new W12 powertrain, the Bentayga is the fastest, most powerful, most luxurious and most exclusive SUV in the world. It offers a true Bentley driving experience and showcases innovative technology features," says Bentley.
An all-new twin-turbocharged 6.0-litre W12 engine is at the heart of the new Bentayga. The mighty 12-cylinder unit combines efficiency and refinement with ultra-luxurious levels of power and torque. With 608 PS (600 bhp / 447kW) and 900 Nm (663 lb. ft) delivering a 0-60 mph time of 4.0 seconds (0-100 km/h in 4.1 seconds) and a top speed of 187 mph (301 km/h), the Bentayga is the world's most powerful and fastest SUV.
"The Bentayga is truly the Bentley of SUVs. It redefines luxury in the SUV sector and offers a genuine Bentley experience in any environment, thanks to a combination of unparalleled attention to detail, go-anywhere ability and cutting-edge technology. With this extraordinary car we are looking forward to an exciting period of strong growth and sales success for Bentley. The Bentayga is the next step in our brand's bold future," commented Wolfgang Dürheimer, chairman and chief executive of Bentley Motors.
The Bentayga will make its full public debut at the IAA Frankfurt Show from 15 to 27 September with the unveiling of a new luxury collection for men and women, highlighting all aspects of the Bentley lifestyle. To ensure no compromise is made on style at work and in business, an array of leather accessories is available in the Bentley Business collection.
The Continental range of leather bags has been extended to include three exquisite accessories which ensure business travel is undertaken with confidence and flair; a briefcase in versions for both men and women and a weekender bag.
Luxurious home accessories in the finest materials bring Bentley style inside. An equestrian blanket crafted from cashmere forms one of the highlights. The blanket comes in hues of Camel and Portland to provide a cosy addition to any room, or alternatively the throw offers a stylish layer to take with you when attending the outdoor events of autumn.
A Bentley photo frame designed in Portland leather and chrome edging will make a stylish addition to any room, while
the aroma of vintage leather can now be experienced with an ambience enhancing scented candle.
A unique handmade desk clock, crafted by the experts at Breitling in Piano Black, joins the Burr Walnut desk clock in
the Collection, and is evocative of the craftsmanship seen within a Bentley.