W Hotels celebrates its Indian Debut.
Renowned today as a beachside playground for Bollywood stars and world-travelers alike, Goa has always marched to a beat all its own. The destination is attracting global nomads in search of progress, enlightenment and adventure. W Hotels celebrates its Indian Debut with the 0pening of W Goa, a hotel located on the internationally renowned Vagator Beach.
Poised to redefine the Indian luxury hotel scene in the way that only W Hotels can, the highly anticipated debut marks the brand's 50th hotel worldwide, bringing the category disruptor one door closer to reaching 75 hotels by 2020.
Situated between the jungle and the stunning coastline of Vagator Beach, W Goa features 160 guestrooms, including Villas, Chalets, a Marvelous Suite and an Extreme WOW Villa (the brand's take on the Presidential Suite). A one hour flight from Mumbai and a 90-minute drive from Goa International Airport, this W Escape overlooks the Arabian Sea and spans 25 acres of exotic sandy beach set against the backdrop of a 500-year old Portuguese Fort.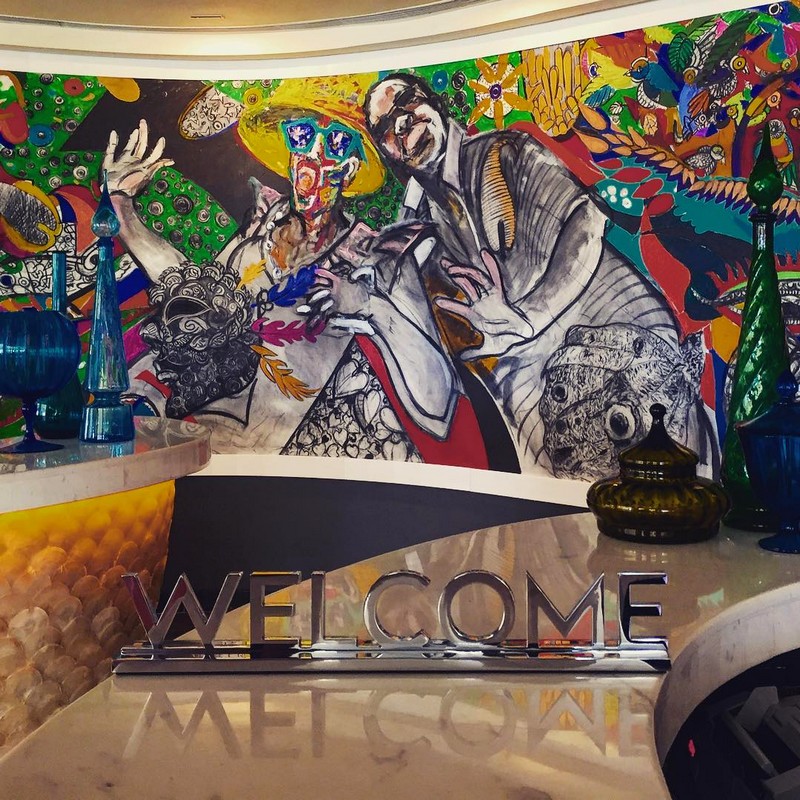 W Goa's Design
Imagined by interior design house Design Wilkes and architects Eco-ID, W Goa combines the rustic and dramatic landscape of Goa with an exuberant spirit that is unique to W Hotels. The grand entrance features huge, unframed doors that are perpetually open and adorned with art by Goan artist Subodh Kerkar, representing the lunar phases and a nod to Goa's full moon party culture. Just steps away, behind the reception pods adorned with simmering white Capize shells, is a massive street art mural by Indian artist M. Narayan featuring gutsy, raw imagery that celebrates the melting pot culture of Goa, as well as the spectrum of color one can see through divine meditation.
For the interiors, the team at Design Wilkes celebrated the local and foreign cultures of Goa, incorporating rich colors and fabrics across the hotel. Each guestroom is drenched in a psychedelic look and feel with trippy hues of purples and blues creating a kaleidoscopic melding of color throughout. Many fixtures – from foggy metal closet doors to the "beaten" metal drawers in the bathroom – are purposefully designed so that guests cannot clearly see themselves, but rather just their shape and movements. Each guestroom features a chandelier that looks as though the lights are melting from the ceiling, and each bathroom features a mirror adorned with the shape of the Bodhi Leaf which is often associated with enlightenment.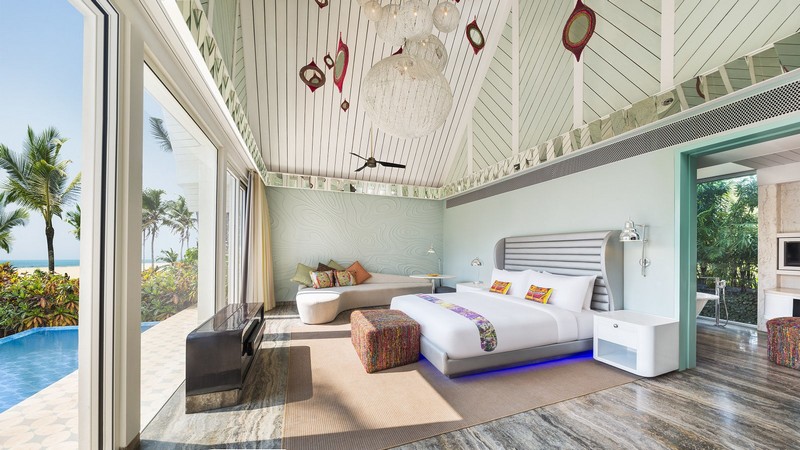 Nestled in a subterranean space, the hotel's Spa by Clarins boasts 14,000 square feet of total relaxation, with each detail inspired by the great baths of Pompeii and a labyrinth of corridors leading to private rooms. The spa includes an Oxygen room, eight treatment rooms, a heated vitality pool, steam room and sauna. Other amenities of the hotel include a FIT gym and an outdoor WET pool deck. The brand's iconic Whatever/Whenever service delivers guests whatever they want, whenever they want it, often facilitated by the W Insider, who shares with guests the inside scoop on what's new/ next in Goa.
W Goa's destination restaurant, Spice Traders, offers Pan Asian epicurean flavors amplified with sumptuous ocean views and al fresco dining.