Titled "Worldwide Celebrations," the 15th edition in the Campari Calendar collection features the Hollywood showstopper Uma Thurman celebrating 12 vibrant and intriguing festivals around the world. From Mardi Gras in New Orleans to Spring Festival in Beijing to Midsummer's Eve in England, the 2014 Calendar paints a stunning portrait of global culture through the lens of famed fashion photographer Koto Bolofo.
The celebrations in the Calendar span every continent including Japan's whimsical Hamani cherry blossoms of spring and the exhilarating Reveillon in Brazil, the biggest New Year's Celebration in the world. Thurman makes her mark as the Calendar's glamorous heroine adorned in a collection of gowns and shoes from top fashion houses including Atelier Versace, Stella McCartney, Zac Posen and Chopard.
"The 2014 Campari Calendar is a stunning piece of artwork. It conveys the positive energy and pleasure that Campari lovers around the world enjoy through worldwide celebrations of culture in such a striking and powerful fashion," Ms. Thurman said. "Koto Bolofo was fantastic to work with and inspired me throughout the shoot. The nature of my career has me all over the globe and there is nothing more enjoyable to me than basking in local festivities and culture. The 2014 Calendar captures beautiful vignettes of these worldwide celebrations and I am thrilled to be part of such a special artistic project."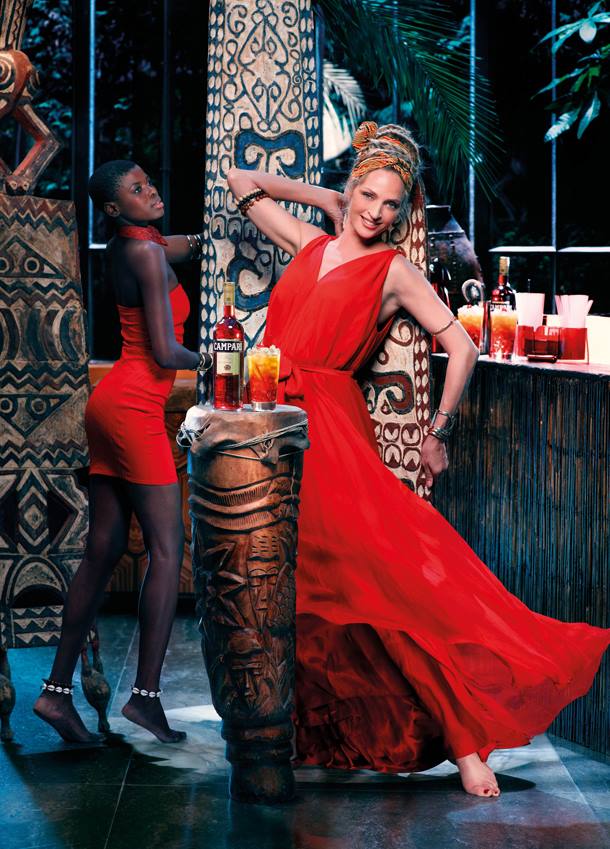 Photographer Bolofo, born in South Africa and raised in Great Britain, truly embodies the global theme of the Calendar. His unique ability to create lively and dynamic imagery offers a window on the world to Campari lovers everywhere.
"For me, the Campari Calendar is all about capturing pleasure, intrigue and charisma. I am confident the 2014 edition embodies all of these qualities," commented Bolofo. "Working with such a stunning muse as Uma was a joy and helped push the boundaries of what this project could be. I am truly thrilled by the passion and style that the 2014 Calendar embodies."
"The 2014 Campari Calendar is dedicated to the pleasure that comes from travel and discovery around the world," said Bob Kunze-Concewitz, CEO of Gruppo Campari. "Uma's passion and style shine through in each and every shot in the Calendar; she is depicted as a heroine who truly embodies the conception of "global" as she discovers and basks in a diverse array of visually stunning worldwide celebrations. Koto has clearly brought his unique
eye and creativity to the Calendar and has yet again helped Campari to produce a beautiful piece of art."
By tradition, the coveted Campari Calendar, of which only 9,999 copies are printed, will not go on sale but will are distributed to friends of Campari.