Tequila Avión And Waterford Partner To Launch The "Avión Collection" Crystal Sipping Decanter Gift Set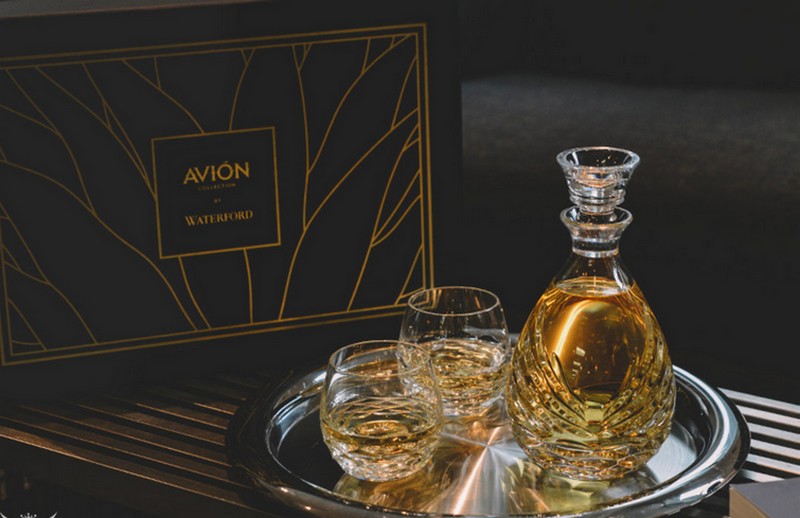 The true tequila aficionado is a growing group that is as informed as their counterparts in whiskey or wine these days. A new specially designed glass and decanter allows enthusiasts to fully appreciate the rich sensorial experience of a good tequila.
Tequila Avión, voted World's Best Tasting Tequila, has partnered with Waterford, renowned for the finest quality crystal, to create a limited-edition, luxury decanter gift set. Called Avión, the collection includes both a fine crystal decanter and pair of crystal rocks glasses. The exclusive set was designed to provide tequila enthusiasts with a truly elevated sipping experience, helping aficionados enjoy the full aromas and flavors of this exemplary spirit.
Drawing inspiration from Avión's single source Rare Blue Weber Agave the raw ingredient that's so critical to the quality and taste of the high-end tequila, the decanter and glasses were designed to resemble a freshly harvested agave "pina," the heart of the agave plant. The iconic wings of the Avión "flying agave" are also evident in the cuts of the crystal. The Avión Collection is accompanied by a 750ml bottle of award-winning Avión Añejo tequila and enclosed in a striking custom black box.
"The Avión Collection decanter and glass has been thoughtfully designed with a slightly bulbous base, which tapers at the top, to allow for a more focused tasting experience; releasing the roasted agave aroma of the tequila as you sip. The ritual of pouring a glass of Avión neat or with the accompaniment of water or ice is further enhanced by the tactile cuts within the crystal creating the perfect grip to the luxurious weight of the Waterford decanter and glass," explained Howard Hyde Global Marketing Director, Waterford.
"We have certainly witnessed an increase in the number of people sipping tequila either neat or on ice. You really understand the amazing aromas & complex flavors when you let high quality tequila stand-alone vs. mixing. In partnering with Waterford for the Avión Collection, we set out to provide consumers with a specially designed glass and decanter that allows one to fully appreciate the rich sensorial experience of Tequila Avión."