Goyard master trunk-makers are combining the ancestral expertise of their Parisian workshops with cutting-edge watch technology. The result is the Watch Winder or The Tourne-montre Case. Its structure is inspired by Goyard's great classics such as the Courrier Trunk or the 352 Case and many beautifully crafted details (wooden battens, flat trunk rivets, hasps, etc.) adorn its surfaces.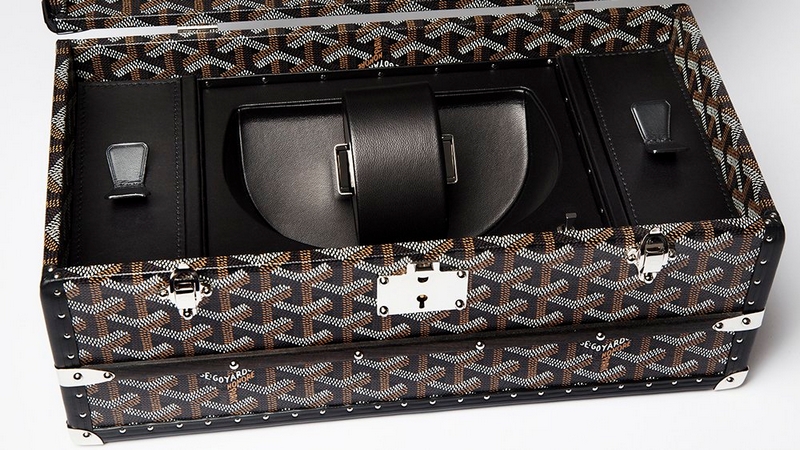 But inside hides another face: a silky lambskin interior in the form of a case for a two-directional rotating winder mechanism made in Switzerland specially for Goyard, perfectly simulating movement of the wrist.
Designed for all automatic winding watches, it makes sure they always have the right time and avoids the complex, painstaking task of resetting certain advanced elements like perpetual dates, moon phases and time equations, which often require the assistance of a specialised watchmaker.
With a mini USB port, the Tourne-montre Case also provides the possibility of programming the engine to the standards of the greatest luxury watch manufacturers.
The USB port means the case can be plugged into the mains, even if the long-life batteries in the Watch Winder Case guarantee perfect autonomy.
The cushion where the watch is fixed made of three concentric heads to adapt to every size of strap and the discreet inner compartment for storing the USB cable and various accessories. Goyard's Tourne-montre Case completes the classic offer of watch travel cases for 2, 4, 6 or 8 timepieces.
For timepieces are a traveller's best friends, Maison Goyard has always paid a special attention to them, as clearly evidenced by one of its moste mblematic creations: the iconic wardrobe trunk is equipped with a special compartment tray ingeniously built into the upper drawer, and conceived to safely store a traveller's most valuable items: jewellery, cufflinks, collar stays and, above all, a most necessary alarm clock…