Etihad Airways brings momentous year to a close with spectacular A380 and B787 launch in Abu Dhabi.
Etihad Airways, the national airline of the United Arab Emirates, has capped an incredible 12 months by unveiling its first Airbus A380 and Boeing 787 aircraft .
The doors to the airline's two new flagship aircraft – in the distinctive new 'Facets of Abu Dhabi' livery – were opened for the first time to reveal the new cabin interiors, which include the ultra-luxurious Residence by Etihad, the only three-room suite in the sky.
The entry into commercial service of the A380 will see the introduction of The Residence by Etihad, a new cabin that has captured the imagination of the air travel industry since it was unveiled in May 2014.
The Residence by Etihad features a living room, separate ensuite shower room, and bedroom, and as another first in the airline industry, a dedicated Butler. Measuring 125 square feet in total, The Residence by Etihad™ is located on the forward upper deck of the A380 and is for single or double occupancy.
The A380 is also the only Etihad Airways aircraft to offer the First Apartment which is a complete living space with a reclining lounge chair and an ottoman, which opens up to become a separate 80.5 inch long fully-flat bed.
The First Suite on the Etihad Airways B787 offers guests an enhanced suite with chilled mini- bar, complete privacy and centre seats which can be joined to create a double bed. A total of 70 Business Studios are located on the upper deck of the A380, and the B787 has 28 Business Studios, all offering aisle access and a fully flat bed of up to 80.5 inches long.
The Economy Smart Seat also debuts on the A380 and Boeing 787 and has enhanced comfort with the unique 'fixed wing' headrest on each seat.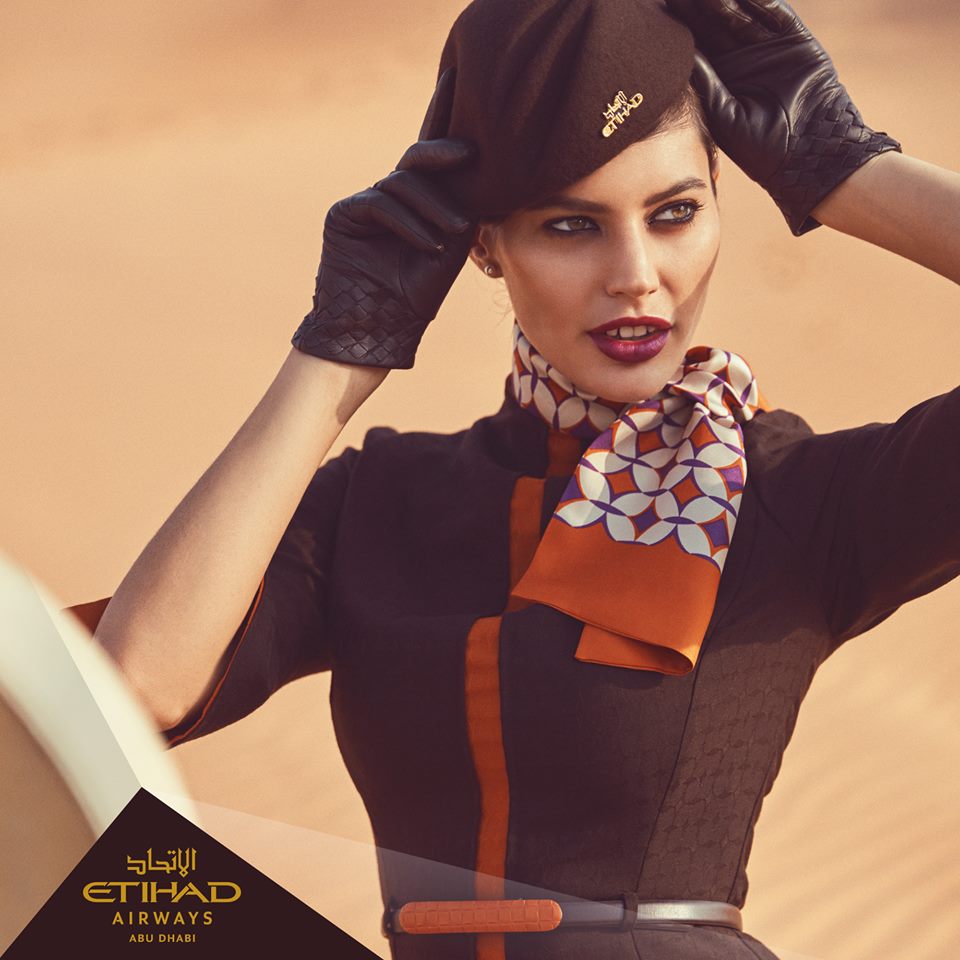 Etihad Airways also unveiled a new cabin crew uniform at a spectacular catwalk fashion show. It's the first major uniform re-launch since the airline's formation in 2003 and incorporates the same colours used for the cabin interior and new aircraft livery.
"With the launch of these aircraft, we usher in a new era of unparalleled luxury, comfort and service. These innovations represent our vision for the future," said James Hogan, Etihad Airways' President and Chief Executive Officer.
The fashion show saw 22 Etihad Airways cabin crew showcasing the new uniform which has been designed by Italian couturier, Ettore Bilotta. It combines elegance, comfort and practicality and the colours are derived from the new brand identity.
Bilotta, in collaboration with the airline's Guest Services and Guest Experience divisions, chose a warm chocolate brown as the base colour for the different uniform variations.
A deep purple colour is added for cabin crew and lounge staff, and a burnt orange accent colour for ground crews and Special Services personnel.