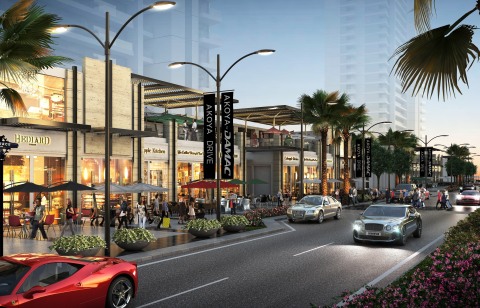 Dubai aims to compete with Rodeo Drive in Beverly Hills, The Croisette or Champs Elysees in Paris in terms of shopping experiences.
Luxury real estate developer, DAMAC Properties has announced the development of AKOYA Drive, one of the longest shopping strip experiences in Dubai.
Similar in length to 'The Walk' at Jumeirah Beach Residences (JBR), the AKOYA Drive will stretch 1.3 km through the AKOYA by DAMAC luxury golf community off Umm Suqeim Road.
Longer than 13 football pitches end to end, the strip will house an outdoor ice-skating rink, cinema screen and interactive kids play area.
A recent report by Jones Lang LaSalle stated that: 'the overall retail market in Dubai continues to perform well, supported by positive sentiment, solid economic fundamentals, a growing tourism industry and a rising number of residents.'
The current stock of retail space in Dubai is currently just under three million sqm, with an additional 840,000 sqm set to be added by 2016.