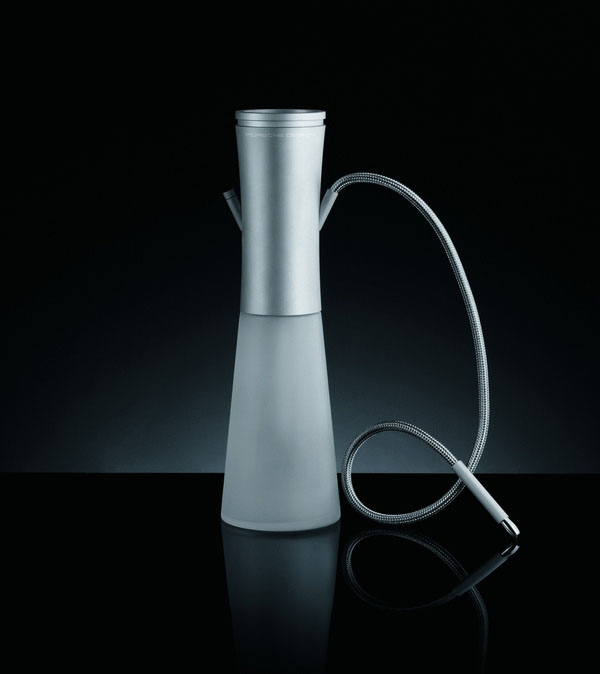 Designed for those customers deeply embedded in African and Middle Eastern cultures, the 2011 luxury Shisha waterpipe by Porsche Design reflects the iconic style credo of the Porsche Design luxury brand: purist design combined with high-end materials.
A vision of simplicity, The Porsche Design Shisha is made in Germany and stands at a height of 55 centimetres. It only shows a discreet branding on the aluminium top of the Shisha and comes with a long flexible tube made out of TecFlex material, which is also used for the classic Porsche Design TecFlex writing tools.
The extraordinary Porsche Design Shisha combines high-quality materials such as aluminium, stainless steel and glass with the timeless and unique design approach of the luxury brand, that has become a major player in the Middle Eastern market
The Porsche Design World Collection is dedicated to a united global community and consists of a number of exclusively designed products. Besides the Shisha the assortment contains chopsticks, a tea and soup set as well as a few fashion items such as a jacket, polo shirt and a silk scarf.
The 2011 opened 55 square-metre shop-in-shop at the world-famous department store Harrods in London offers the full range of Porsche Design products. It is situated in the opulent surroundings of the Knightsbridge store's vision and sound department at the 3rd Floor's Millionaires Gallery.
[adsenseyu1]