Johnnie Walker has released the Johnnie Walker Blue Label Year of the Dog limited-edition bottle in celebration of the Lunar New Year.
The award-winning artist Page Tsou was commissioned to create the Johnnie Walker Blue Label Year of the Dog bottle. The precious design consists of a total of four dogs all chosen for their special meaning in Asia.
This annual limited-edition series, now in its fifth installment, honors each Lunar New Year with a commemorative bottle inspired by the Chinese Zodiac. The 2018 bottle artwork, created in collaboration with multi-award winning Taiwanese artise Page Tsou, follows the Johnnie Walker Striding Man as he celebrates the Lunar New Year alongside the design's proudly displayed Shar Pei. Originally bred for Chinese nobility, the Shar Pei is renowned for its rarity, a key characteristic of Johnnie Walker Blue Label. With only 1 in 10,000 whiskies distilled by Johnnie Walker possessing the caliber required to craft the Blue Label blend, each bottle exemplifies exclusivity and prestige.
Blue Label Year of the Dog is a true collectors' item and the perfect gift for celebrating the Lunar New Year. The bottle comes in collectible packaging that features a front-and-back view of the dazzling bottle – a great keepsake for any home bar or tablescape.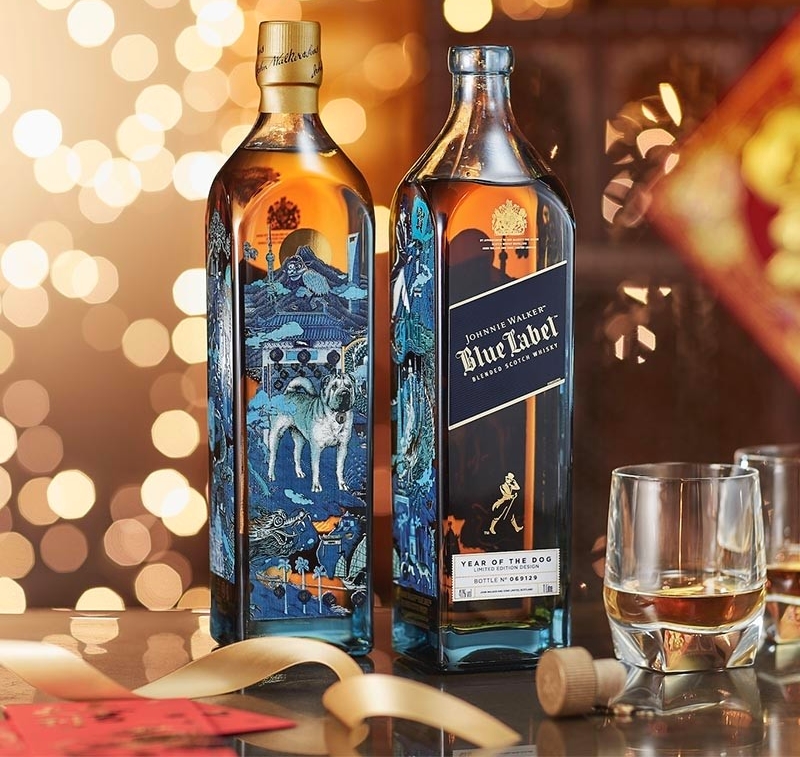 "This unique design tells the story of the Johnnie Walker Striding Man and a loyal companion as they journey around the world bringing prosperity and rejoicing in the arrival of the New Year. The design also contains various symbols of wealth and prosperity making this bottle extremely unique and the perfect gift to give this Chinese New Year," said Page Tsou.
Decorated with precious metals and a lacquered, ink-jet finish, the bottle itself depicts an ancient Chinese triptych design of beautiful lanterns, fireworks, and dancing dragons, embodying emotions felt while ringing in the New Year: an eagerness for exploration to worlds unseen, and an inspired sense of optimism and progress – the cornerstone of Johnnie Walker. Man's best friend is pictured standing honest and loyal while traveling through this vibrant landscape, representing the best traits of human nature.
"The Lunar New Year is one of the most recognized Chinese traditions around the globe, and Johnnie Walker is thrilled to continue celebrating this iconic cultural moment with a limited-edition bottling of the rarest and most exclusive blend in our portfolio," said Sandhya Padmanabhan, Senior Brand Manager of Johnnie Walker North America. "As we look forward to the many special moments to toast with Johnnie Walker in this new year, we remind you to always enjoy responsibly."