For the seventh consecutive year, eBay is hosting the official online auction for BBC Children in Need, whose annual telethon featuring the lovable Pudsey Bear is one of the biggest nights on the charity calendar.
The 2017 collection, curated by Katie Grand, has seen the likes of Burberry, Gucci and Louis Vuitton reimagine Pudsey's iconic ears, modelled by famous supporters from around the world, including Adwoa Aboah, Kaia Gerber, Selena Gomez and Suki Waterhouse.
BBC Children in Need launched its first ever Designer Pudsey Ears Collection which features one-off headpieces designed by some of the biggest names in fashion and inspired by the charity's mascot, Pudsey Bear.
Burberry, Coach x Selena Gomez, Fendi, Gucci, Louis Vuitton x Supreme, Miu Miu Prada and Tommy Hilfiger x Gigi Hadid have used their creative talents to contribute a bespoke creation to the exclusive collection of Pudsey Ears, curated by Katie Grand, LOVE magazine editor-in-chief and fashion stylist. The remarkable accessories are going to be auctioned off online and available to the highest bidder at www.bbc.co.uk/Pudsey from 9am, 9th November 2017 until 19th November 2017, with all proceeds going to BBC Children in Need.
The Designer Pudsey Ears have been recreated in an array of different fabrics from denim to leather; in a rainbow of different colours; and in a variety of different styles, from Gucci's intricate, embroidered design, to Burberry's classic print. Each pair is completely unique and will allow fans the opportunity to own a piece of fashion history, and to gain an insight into trends for 017 and beyond.
In addition to the Designer Pudsey Ears, Louis Vuitton x Supreme have created a one-off unique 28 inch version of Pudsey Bear which is included within the collection. The highly covetable bear has been created using the final pieces of denim fabric from the brands' iconic collaboration.
The Designer Pudsey Ears have been modelled by some of the fashion world's most recognisable faces, including; Adwoa Aboah, Thylane Blondeau, Edie Campbell, Kaia Gerber, Neelam Gill, Selena Gomez, Taylor Hill, Georgia May Jagger, Iris Law, Amber Le Bon, Erin O'Connor, Eric Underwood and Suki Waterhouse.
Speaking of the collection, Katie Grand commented; "I am delighted to be involved in this year's BBC Children in Need Appeal and to have curated the 2017 Designer Pudsey Ears Collection. What an incredible collection of exquisite designs! Each designer has surpassed themselves in adding their own unique identity to their headpiece."
"I hope fashion fanatics across the UK and beyond are encouraged to get bidding on these fabulous creations. All money raised will go on to help support disadvantaged children and young people across the UK, so what are you waiting for?"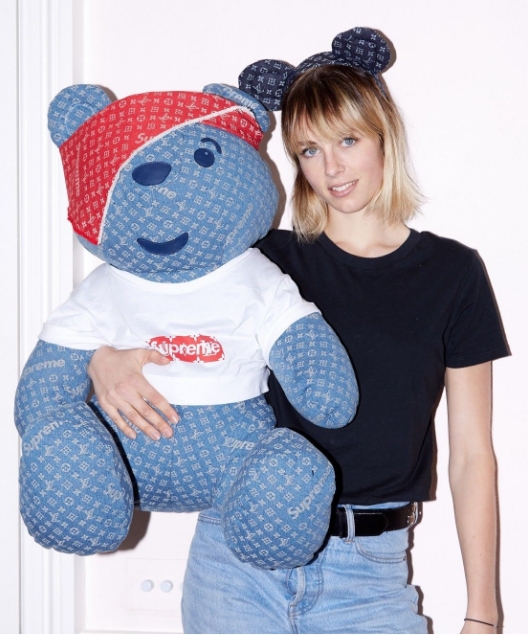 Auction Pudsey bear
BBC Children in Need helps support disadvantaged children and young people in the U.K. Last year's eBay campaign raised  more than £500,000 (about $795,000 U.S.) through the charity's brand-new eBay shop, high-profile auctions and via support from eBay buyers and sellers. In addition, PayPal processed more than £1.5 million in donations (about $2.4 million) including £890,000 (about $1.4 million) during the BBC's live telethon.
This year's telethon will be held Nov. 16. The auction, which is currently live, features exclusive memorabilia and experiences, including the opportunity to meet musical artists Girls Aloud and Peter Andre, and VIP tours of Pinewood Studios (where parts of "Skyfall" and "Harry Potter and the Deathly Hallows: Part 1" were filmed) and the set of "Dragons' Den," the BBC show where entrepreneurs pitch their ideas to millionaire backers.
Photographs: BBC Children in Need.