The art of the perfumer is about crafting fragrances able to spark unique experiences.
Spectacular library of over 100 Guerlain fragrances opened in the heart of Paris.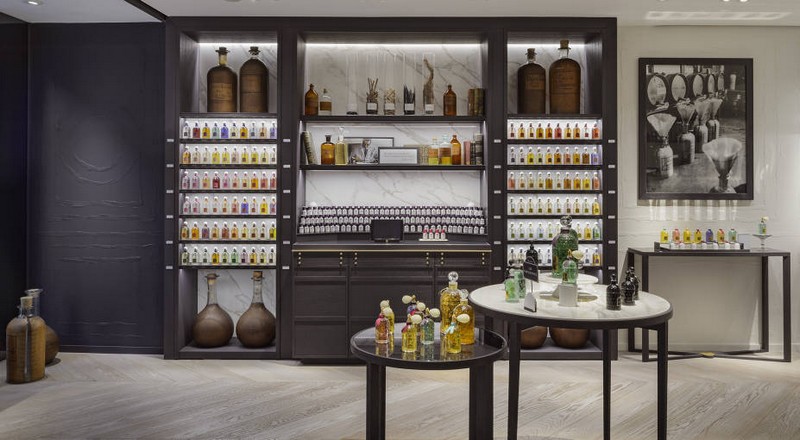 Fragrances mark the memory, arouse emotion and provoke unique sensations, says Guerlain luxury house. The French perfume expert has opened a new boutique dedicated exclusively to perfumes at 392, rue Saint Honoré in Paris. The boutique is a journey into the world of Guerlain Fragrances, celebrating the art of perfumery that has earned the House renown since 1828.
Two centuries of Guerlain heritage is displayed, including 19th century "dames-jeannes", broad glass bottles encased in wicker used to preserve liquids, plus notebooks containing formulas that have been jealously guarded for five generations. Guerlain has developed also a digital perfume platform that lets visitors
travel the world of scented creations and olfactory emotions to determine their own personal "olfactory profile", helping them select one of the 18 emblematic Guerlain fragrances.
"Bottle, colour, fragrance, collar bow, silk tissue paper… Elegance is in the details. At the brand new Guerlain Parfumeur boutique the Maison combines its savoir faire and your creativity through a unique personalisation service to let you create YOUR own perfume," explained the Maison.
The store showcases the spectacular library of over 100 Guerlain fragrances, a collection unique in the world, organized according to 14 of the perfumer's emblematic ingredients. There is also a cellar where carefully controlled lighting and temperature preserve Guerlain perfumes in mythic Guerlain "bee" bottles, like rare vintage wines.
Perfumers Calendar
In April, Guerlain celebrates Orange Blossom and its multiple facets: green, sparkling, honey-sweet, tasty… An enchanting scent, to discover in Guerlain creations such as La Cologne du Parfumeur and Le Plus Beau Jour de ma Vie.
Each spring, a new Guerlain Aqua Allegoria joins the collection and to date 34 fragranted poems have been created. From Pamplelune in 1999 to Pera Granita in 2016, they are always a highly expected rendez vous for Guerlain fans.