Your next challenge, play polo!
Within walking distance of historic Windsor Great Park, Coworth Park is a gateway to the breathtaking vistas, sporting activities and heritage sites that make the southeast of England such a fascinating and rewarding region to visit.
With more than 60 years of polo history, Coworth Park's Ultimate Polo Package is the perfect place to start learning to play polo. This
overnight polo experience, tailor made by Coworth Park's expert polo manager will make the most of Coworth Park's High Goal fields.
Coworth Park, Ascot is Dorchester Collection's luxury country house hotel and spa and the only hotel in the UK where you can learn to play polo. The hotel is the only UK hotel to feature its own polo fields and practice facilities, managed by Guards Polo Club.
Both Guards Polo Academy at Coworth Park and the world class Equestrian Centre are open for both hotel and non-hotel guests, whatever your level or ambition in the saddle.
Whatever your standard, you will be fully immersed in the theory and practice of the sport of kings. The courses are available during polo season only (April-October inclusive). The are a variety of options for lessons and bespoke polo days alongside playing members of the world's most famous polo club.
Guards Polo Club brings almost 60 years of hosting world-class sport and polo events to Coworth Park, whilst the Academy is managed by professional players Ebe Sievwright and Philip Meadows, each contributing over two decades' worth of experience in polo instruction and  management.
The ultimate overnight polo experience from Coworth Park includes luxury accommodation, English Breakfast for two, Guards Polo Academy's ½ Day Polo Masterclass, a personal introduction to the world of polo over cocktails with an England team member, VIP Horse shoe Polo welcome amenity, and same day complimentary membership to Guards Polo Club.
Coworth Park's new Bicycle Fleet is the perfect treat for guests wanting a novel way to explore the 240-acre picturesque parkland and the surrounding Berkshire countryside. Coworth Park Kids is a converted 4 bedroom house with seven different rooms equipped to keep children of all ages entertained while their parents are playing polo.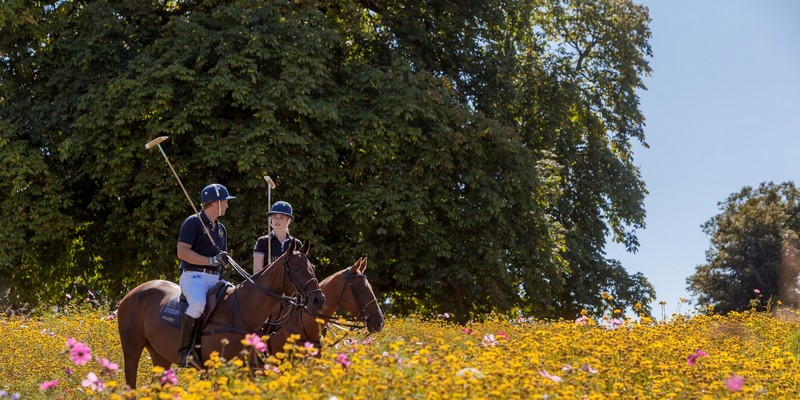 Coworth Park's Equestrian Centre provides beautifully bred, well trained and immaculately presented horses to ride across the private estate – there is no better viewpoint to explore the beautiful Berkshire countryside than on horseback. For those wishing to improve their riding ability further, the hotel offers one-to-one lessons in basic riding, dressage and jumping.