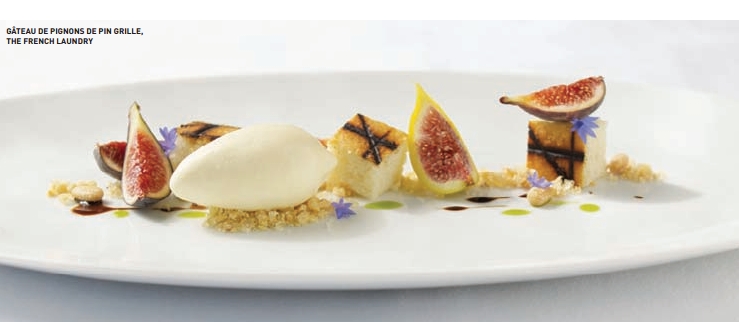 Elite Traveler's Magazine presented its own version of World's Top Restaurants Guide, in contrast with famed Restaurant magazine's World's 50 Best Restaurants list. The guide features 100 restaurants loved not just by the critics, but by the wealthy elite who spend their lives traveling the world and dining in style. By gathering the views, the magazine said it had discovered where high net worth individuals have been eating in the past year, and which places have wowed the clients.
"Across the globe, the standard of restaurants is ever on the up, with big name chefs stealing headlines, fighting for awards and changing the way we think about food. It's an exciting time to unfurl a napkin, and our expectations as diners have never been higher," said the magazine in its introduction to World's Top Restaurants lists.
Alinea Restaurant (1723 North Halsted, Chicago, Illinois, US) tops the list. "The worthy recipient of a host of accolades, Alinea's reputation speaks for itself. Spearheaded by chef / owner Grant Achatz, whose hypermodern, emotional approach to dining is respected the world over, Alinea is simply a cut above the rest. Its team of creative staff and innovative collaborators produce a forward-thinking, deconstructed cuisine. A tasting menu of 16 to 18 courses includes such delights as black truffles, urchins, hamachi and venison," the magazine described Alinea.
TOP 30 restaurants in the world by Elite Traveler's World's Top Restaurants magazine
1. Alinea – Chicago, USA (Chef / Owner: Grant Achat; Chef de Cuisine: Dave Bera)
2. The Fat Duck – Bray, UK (Chef / Owner: Heston Blumenthal; Head Chef: Jonny Lak)
3. Per Se – New York, USA (Chef / Owner: Thomas Keller; Head Chef: Eli Kaime)
4. Pierre Gagnaire – Paris, France (Head Chef: Pierre Gagnaire)
5. Daniel – New York, USA (Head Chef: Daniel Boulu)
6. Le Bernardin – New York, USA (Executive Chef: Eric Ripert; VIP contact: David Mancini, General Manage)
7. El Celler de Can Roca – Girona, Spain (Head Chef: Joan Roc)
8. Louis XV Alain Ducasse – Monaco (Head Chef: Dominique Lory; Maître d': Michel Lan)
9. Mugaritz – Errenteria, Spain (Head Chef: Andoni Luis Aduriz)
10. Hof Van Cleve – Kruishoutem, Belgium (Head Chef: Peter Goossens; VIP contact: Ann Van Them)
11. Alain Ducasse Au Plaza Athenee – Paris, France (Head Chef: Christophe Saintagne; General Manager: Denis Courtiade)
12 Jean Georges – New York, USA (Head Chef: Mark LaPico; General Manager: Philippe Vongerichte)
13. Nobu Matsuhisa Restaurant – Los Angeles, USA (Chef / Owner: Nobu Matsuhisa Head Chef: Yoshi Sato)
14. The French Laundry- Yountville, USA (Chef / Owner: Thomas Keller; Chef de Cuisine: Tim Hollingswort)
15. Al Sorriso – Soriso, Italy (Head Chef: Luisa Marelli)
16. The Ledbury – London, UK (Head Chef: Brett Graha)
17. Restaurant Gordon Ramsay – London, UK (Head Chef: Clare Smyth; VIP contact: Jean-Claude Breto)
18. L'Hotel de Ville – Philippe Rochat- Crissier, Switzerland (Chef / Owner: Philippe Rochat;Chef: Frank Giovannin)
19. La Colombe – Cape Town, South Africa (Head Chef: Scot Kirto)
20. L'Auberge du Pont de Collonges – Collonges-au-Mont-d'Or, France (Head Chef: Paul Bocuse; VIP contact: Vincent Le Rou)
21. ArzAk – San Sebastián, Spain (Head Chef: Juan Mari Arzak / Elena Arza)
22. Eleven Madison Park – New York, USA (Executive Chef: Daniel Humm / Head Reservationist:
Mandy Latervee)
23 . Martín Berasategu – Lasarte-Oria, Gipuzkoa, Spain (Head Chef: Martín Berasategu)
24. Noma – Copenhagen, Denmark (Head Chef: Rene Redzepi; VIP contact: Caroline Kremer, General Manager)
25. Le Manoir Aux Quat'Saisons – Great Milton, Oxfordshire, UK (Chef / Owner : Raymond Blanc; Executive Chef: Gary Jones)
26 .ALAIN Ducasse at the Dorchester – Mayfair, London, UK(Executive Chef: Jocelyn Herland; Restaurant Director: Nicolas Defremon)
27 . Tetsuya's – Sydney, Australia (Head Chef: Luke Powel)
28. L'Atelier de Joel Robuchon Etoile – Paris, France (Head Chef: David Alves; VIP contact: Antoine Hernande)
29. Osteria Francescana – Modena, Italy (Head Chef: Massimo Bottur)
30. Aqua – Wolfsburg, Germany (Head Chef: Sven Elverfeld; VIP contact: Sandra Schuschkle)