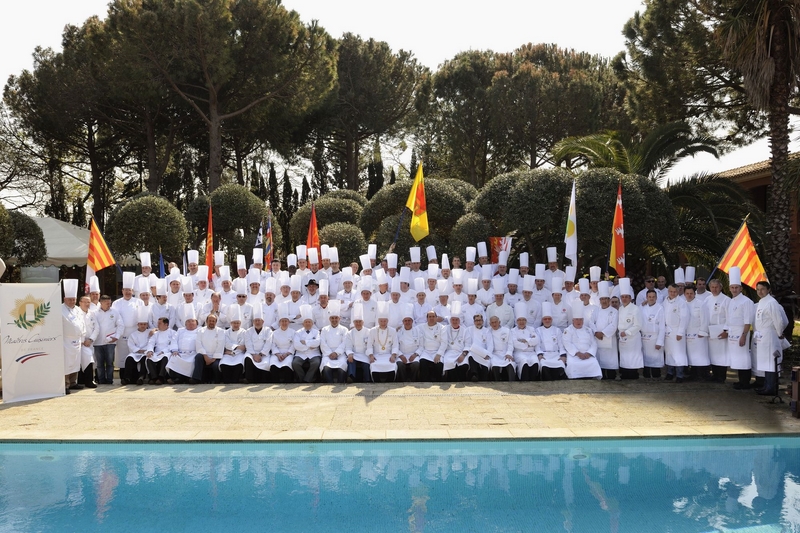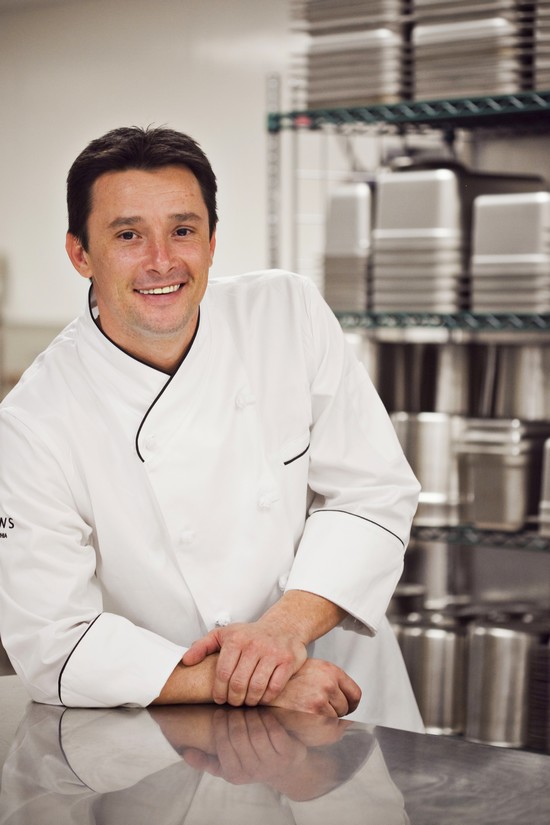 Loews Atlanta's Executive Chef Olivier Gaupin has been inducted into the prestigious Maitres Cuisiniers de France (Master Chef of France), an exclusive organization dedicated to preserving and spreading French culinary arts. Six chefs in the United States, including Gaupin, were inducted into the Maitres Cuisiniers de France during a conference ceremony held March 18 at city hall in Lyon, France, where each chef was awarded a medal by Christian Tetedoie, president of the association, in the presence of Lyon Mayor Gérard Collomb.
All candidates must complete a thorough ethical and culinary review, which includes announced and unannounced visits to each chef's restaurant, by the Maitres Cuisiniers de France's special committee in order to receive acceptance into the members-only organization. Candidates must also comply with the organization's charter.
"It is an incredible honor to join the Maitres Cuisiniers de France's network alongside such high profile, talented chefs," said Chef Olivier Gaupin, who joins an elite group of just 68 chefs in the U.S., including world-renowned chefs Pierre Chambrin, Michel Richard and Eric Ripert, in addition to more than 300 chefs worldwide. "French cuisine is a huge part of my life and I am very thankful for the recognition as well as the support from the wonderful Loews Atlanta team."
A native of Orleans, France, Olivier Gaupin, 42, joined the Loews Atlanta Hotel in 2010 as Executive Chef. He is responsible for overseeing the hotels' signature restaurant, eleven, Bar eleven, banquet services and catering. Gaupin's passion for simple, sophisticated and creative fare brings to life eleven's traditional, regional cuisine with contemporary style and an emphasis on natural ingredients.
Gaupin developed a passion for fine food and wine at an early age and followed in his uncle's footsteps to pursue a career in the culinary field. Gaupin visited the U.S. for what was intended to be a three-week vacation and has now been sharing his culinary talents in the U.S., France and Switzerland for more than 20 years.
In 1989, shortly after graduating from France's CFA Charles Peguy School, Gaupin served as chef de partie of the Michelin-rated Hotel Negresco in Nice, France. Later he served as a private chef on a yacht that travelled throughout the Mediterranean Sea, followed by stints as head chef for the private residence of the defense minister in Paris and as chef de partie at the famed Hotel Stuva Colani in St. Moritz, Switzerland. After permanently relocating to the U.S. in 1994, Gaupin was executive sous chef at Provence Restaurant in Washington, D.C. for two years, followed by dining room chef for the Pfister Hotel Milwaukee, Ritz Carlton Hotel Atlanta and Ritz Carlton Hotel St. Louis.
Gaupin also served as executive chef at the Watersound Beach and Resort, Water Color Inn and Resort, and Alys Beach Resort in Florida where he managed all aspects of the resorts' food and beverage outlets from 2001 to 2010.
The 28 new members of the Maitres Cuisiniers de France (MCF) 2013:
France:
Pascal Barnouin (Meffre Traiteur Restaurant, L'Isle-sur-la-Sorgue)
Julien Binz (Rendez-vous de chasse Restaurant, Colmar)
Thierry Blandin (La Fermette, Matignon)
Alain Bohn (Croisieurope, Strasbourg)
Christian Bourhis (Miramar Crouesty, Arzon)
Éric Cellier (Restaurant Cellier Morel, Montpellier)
Jacky Delalande (Ô Gré des saveurs, Chamalières)
Guillaume Gomez (Palais de L'Élysée, Paris)
Christian Leclou (Le Clou de fourchette, Paris)
Babette Lefebvre (La Cambuse, Strasbourg)
Patrice Leroy (École hôtelière d'Avignon)
Frédéric Montemont (L'Estacade, Bordeaux)
Marc Morel (Marc Morel Traiteur, Épernay)
Richard Soibinet (La Toque blanche, Oyonnax)
David Vaqué (Le Bistro gourmand, Nice)
Anne-Sophie Pic (Maison Pic, Valence)
Philippe Saint-Romas (Établissements Rémy Martin, Cognac)
USA:
Olivier Gaupin (Loews Atlanta Hotel, Atlanta, USA)
Gilles Arzur (Beverly Wilshire Hotel, Beverly Hills, USA)
David Serus (Ritz Carlton Hotel, Marana, USA)
Stéphane Verdille (Consulat général de France, New York, USA)
Hervé Malivert (The International Culinary Center, New York, USA)
Serge Devesa (Hotel International Barclay's, New York, USA)


UK
Christian Carbillet (Hilton Hotel Cardiff, UK)
China:
Yannick Ehrsam (Sofitel At Ponte, Macao, China)
Mexico:
Michel Mustière (hôtel Grand Velas Riviera Maya, Playa del Carmen, Quintana Roo, Mexic)
Brazil:
Frédéric Monnier (Brasserie Rosario, Rio de Janeiro, Brasil)
Vietnam:
André Bosia (Sofitel Legende Métropole, Hanoï, VietNam).