Hotel Viu Milan – the only hotel rooftop in Milan with an outdoor swimming pool.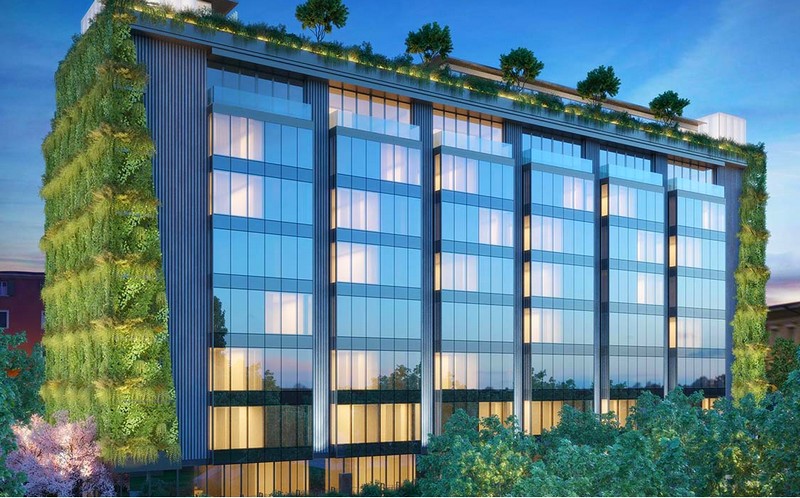 VIU Milan (A Member of DesignHotels) opened February 2017. In the up-and-coming area of town and new financial district in Milan, the hotel is only 5 mins walk from Corso Como and 10 mins by car to the city center. 124 rooms designed by Molteni, 4 F&B outlets managed by Michelin Star Chef Giancarlo Morelli, a stunning rooftop terrace with open air pool, and an amazing bar.
In the most vigor area of Milan, between Corso Como and Gae Aulenti square, the VIU stands out with its unique architecture.
Representative of the regeneration of the urban environment around Porta Volta, the 124-room hotel stands out thanks to its exterior's spectacular vertical garden. Rendered in sustainably-sourced wood, metal and bronzed glass, the hotel's architecture is composed of undulating patterns of indentions and projections that define each story. Floor-to-ceiling glass windows flood the rooms and guest areas with natural light
The lush greenery that bookmarks the property pays homage to Stefano Boeri's landmark Bosco Verticale project, and demonstrates Hotel Viu Milan's passion for eco-sustainability. A newly minted public square in front of the hotel will continue the green narrative of this regenerated pocket of Porta Volta.
For this project Molteni&C Contract Division furnished all the social areas (lobbies, restaurants, bars), bedrooms and suites with custom made fixed and loose furniture charachterized by delicate nuances and completed by a curated collection of objets d'art.
That reinforce the impression of staying at a private residence—albeit one outfitted with impeccable taste.
The entrance of Viu Hotel displays the unconventional Freestyle sofa design Ferruccio Laviani and two D.154.2 armchairs, designed by Gio Ponti in 1954 and today produced by Molteni & C, thanks to an agreement with the Gio Ponti Archives, thereby preserving the legacy of the great Milanese maestro, which would otherwise have been lost.
Hotel Viu Milan will also play host to an eponymous gourmet restaurant helmed by Giancarlo Morelli, which can be accessed both from the hotel itself and through a standalone street entrance.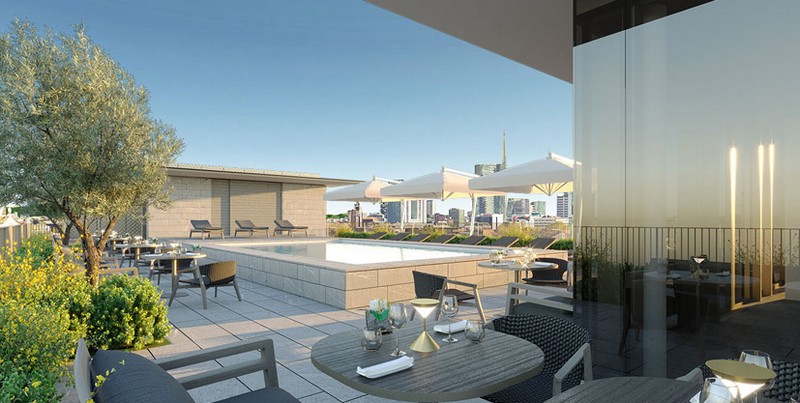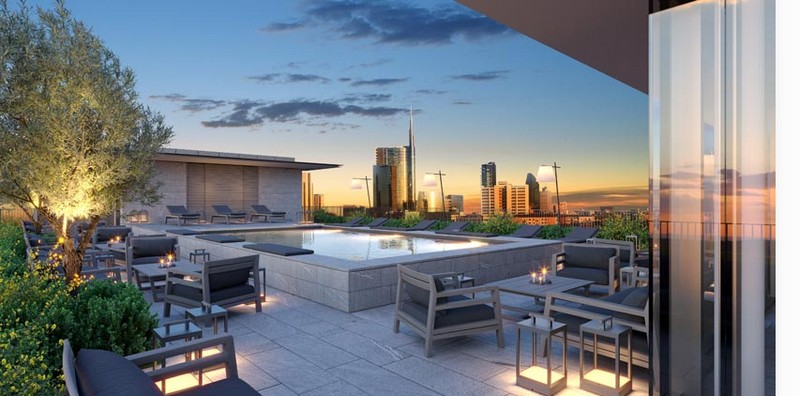 The rooftop
The crowning glory of Hotel Viu Milan, The VIU is the only hotel rooftop in Milan with an outdoor swimming pool that features stunning 360-degree views of the city skyline. Teak lounge furniture is set amid Mediterranean olive trees, creating an urban oasis where guests can while away halcyon hours between dips in the pool and bask in the sun's warming rays from dawn till dusk.
Rooms & Suites
The studied elegance that defines Hotel Viu Milan's visual concept extend to the hotel's 124 rooms and suites, which are a lesson in meticulously-crafted luxury. A thoughtful neutral color palette of taupe and wood hues ensure that all attention is on the spectacular floor-to-ceiling windows, which flood the rooms with natural daylight and provide unrivaled  views over the Milanese skyline. The boundaries between inside and out are further blurred by the private terraces which are scattered across the first and seventh floors. Wood paneling of walnut, durmast and rosewood echoes the lines and function of the classic design pieces in the rooms, while accents in bronze add a sinuous sophistication.
Natural materials such as sandstone and oak in the bathrooms lends itself to an earthy warmth, which is amplified by the use of Port Laurent marble with its signature rich brown tone interwoven with gold threads. Natural daylight comes courtesy of a sliding wooden wall which opens up into the bedroom, meaning bath time is accompanied by a seriously enviable view, as well as a stash of stylish Malin+Goetz amenities.