Every season, the big brands fight to grab the most suitable faces and ambassadors for their future ad campaigns. Supermodels, actresses, singers, celebrities or adorable new-comer are smiling softly from the ad images. Their angelic faces will follow us discreetly for over several month of 2011. We're going to look for the "G" from the shopping.
Jennifer Lopez & Gwen Stefani for L'Oréal
Gwen Stefani and Jennifer Lopez are the newest faces of cosmetics giant L'Oréal Paris. Gwen Stefani is fronting the L'Oreal's Infallible Le Rouge Lip Color campaign. Jlo will advertise EverSleek hair care range.
Joan Smalls for Roberto Cavalli
First Estée Lauder, then Gucci, and now Roberto Cavalli ad campain.


Jourdan Dunn for Yves Saint Laurent's
British model Jourdan Dunn appears in an ad for Yves Saint Laurent's Touche Éclat Highlighter Spring/Summer 2011 campaign signed by Terry Richardson.
Elisa Sednaoui for Giorgio Armani Spring 2011
Model and actress Elisa Sednaoui combines fashion presentations and advertising campaigns. After Chanel and Diane von Furstenberg, Elisa Sednaoui is the Armani woman for Sprin 2011. "La Femme Bleue" collection is inspired by the night sky over the Sahara desert.
Leighton Meester for Missoni
Blake Lively's Gossip Girl co-star Leighton Meester also is putting her face to a fashion collection. Leighton Meester is the star in the ad campaign for Missoni!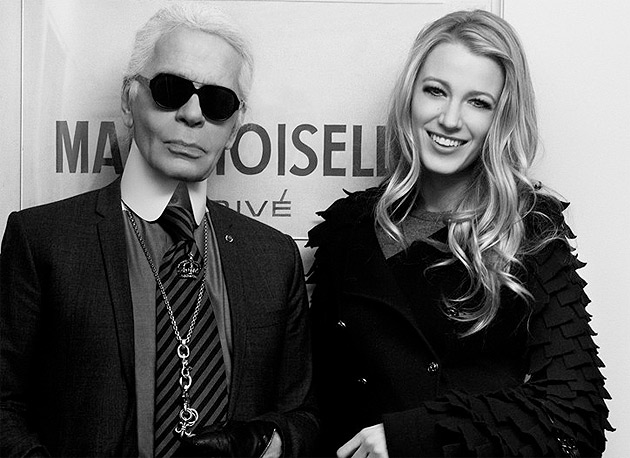 Blake Lively – Chanel brand ambassador
Blake Lively will star in a Chanel campaign for the luxury fashion house's Mademoiselle handbag collection. The Chanel ads will make their editorial debut beginning in April.


Natalia Vodianova for Etam lingerie
For 3 seasons Natalia Vodianova returns as the face for the French lingerie brand Etam. Natalia creates a collection of lingerie and a prêt-à-porter line.
Megan Fox si Rafael Nadal for Armani Jeans and Armani Lingerie
For the second time Megan Fox is the star for Armani campaigns (both Jeans and Lingerie). 2010 was the Christiano Ronaldo year, but 2011 seems to be under the Rafael Nadal star.
15 socialites ladies for Louis Vuitton Spring 2011 Jewelry collection
15 Louis Vuitton's ladies are some of the most promising socialites of the day all over the world. DJs, actresses, reporters, singers promote the luxury LV jewelries (bracelets and necklaces)
Karmen Pedaru, Joan Smalls and Hailey Clauson  for Gucci
Karmen Pedaru is the star of the new Gucci ad campaign signed Mert & Marcus. Joan Smalls and Hailey Clauson are keeping a great glamour company.
Raquel Zimmermann, Freja Beha Erichsen et Kristen McMenamy pour Louis Vuitton
Louis Vuitton luxury house has chosen an interesting trio of shock with Raquel Zimmermann, Freja Beha Erichsen and Kristen McMenamy, photographed by Steven Meisel.
Arizona Muse for Yves Saint Laurent
After the reign of Kate Moss, Naomi Campbell, Christy Turlington and Claudia Schiffer, Stefano Pilati comes with a new face – Arizona Muse.
Daphne Groeneveld & Stephen Thompson for Givenchy
After transexual Lea T, Riccardo Tisci surprise by appealing to the albinos model Stephen Thompson, photographed alongside Daphne Groeneveld by Mert & Marcus.
Audrey Marnay for Longchamp
Photographed by Patrick Demarchelier the ad campaign for Longchamp Spring Summer 2011 is starring Audrey Marnay.
Diane Kruger – the ambassador for the new Jaeger-LeCoultre Reverso Lady Ultra Thin watchSIHH 2011was a perfect occasion for Jaeger-LeCoultre to present the hollywood actress Diane Kruger as the new face for Le Sentier-based watch brand.
Crystal Renn for Jimmy Choo
Leaving behind Jean-Paul Gaultier, Chanel collaboration and a plus-size image, Crystal Renn presents under the lens of Inez & Vinoodh  a great silhouette in the latest Jimmy Choo ad campaign. Crystal Renn has replaced Amber Valletta as the face of Jimmy Choo.

Natalie Portman is the new Miss Dior Cherie
Natalie Portman is in her lucky year. Everything goes smoothly on all levels, including the personal ones. Natalie has become the embodiment of Miss Dior Cherie perfume. Miss Dior Cherie poses nude wearing only a headband and a trail of perfume.
Karlie Kloss for Christian DiorKarlie Kloss once again embodies the Christian Dior's femme fatale, version John Galliano and Steven Meisel.
January Jones for Versace Accessories
Mario Testino photographed the actress for Versace's new spring-summer 2011 ad campaign wearing nothing more than the brand's accessories.