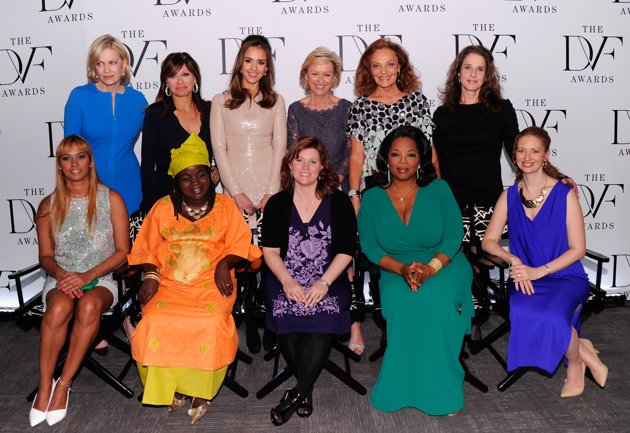 Diane Sawyer, Representative Nancy Pelosi, Lauren Bush Lauren, Tatiana von Furstenberg, Fran Lebowitz and Oprah Winfrey, who was honored with a "Lifetime Achievement Award", are just a few of the remarkable women who joined co-hosts Tina Brown and Diane von Furstenberg at the 3rd annual Diane Von Furstenberg awards (March 9, 2012 in New York City). The DVF awards honor women who are courageous and fight for justice.
Honorees receive $50,000 in support of the organization (U.S. 501c3) with which they are affiliated from The Diller-von Furstenberg Family Foundation to further their work.
"I am so inspired by all of these incredible women, and humbled," Diane said just before the ceremony began. "Tonight is truly a
celebration."
The evening's presenters included Jessica Alba, who sparkled in a DVF pale pink sequined mini dress, Debra Winger, and journalist Maria Bartirimo.
Oprah Winfrey was statuesque in an emerald green wrap gown as she accepted her award and presented the honor to Jaycee Dugard, telling her, "I am so proud of you, your courage, your ability to press onward toward the future and toward a more victorious life for yourself and for using your courage, your strength and your power to show the world that you care."
The DVF Awards were created in 2010 by Diane von Furstenberg and The Diller-von Furstenberg Family Foundation to recognize and support women who are using their resources, commitment and visibility to transform the lives of other women. These are women who have had the courage to fight, the power to survive and the leadership to inspire.
Each year, five awards are given to women who have demonstrated leadership, strength and courage in their commitment to women's causes.