Forbes began the pursuit of the world's billionaires 25 years ago. The first cut yielded 140 names. This year the magazine have counted an all-time high 1,226 billionaires worth a record $4.6 trillion. Carlos Slim tops Forbes billionaires list at $69 billion.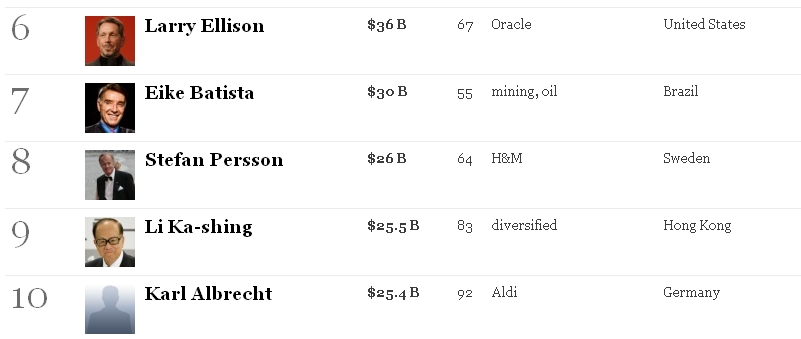 There are now billionaires from 58 countries. The U.S. is still home to more billionaires than any other country, with 425, a gain of 12. Mainland China and Russia were both clobbered. They have 95 and 96, respectively, down from 115 and 101 last year. The BRIC nations, which were such a force of wealth creation a year ago, have 26 fewer ten-figure fortunes, with only Brazil adding to its bounty.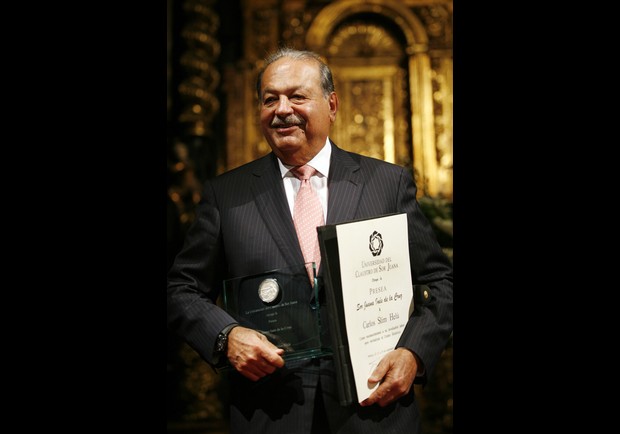 1. Carlos Slim Helú and family – $69 billion (DOWN) – Telecom – Mexico
Carlos Slim Helú retains the title of world's richest man for the third year in a row despite a fortune that's $5 billion
smaller than a year ago—primarily because of a lower share price for telecom giant America Movil, which accounts for more than half his net worth.
2. Bill Gates – $61 billion (UP) – Microsoft – USA
Bill Gates, the most generous person on the planet (he's given away $28 billion already), will continue to chip in $200 million a year to rid the world of a disease that is still endemic in Pakistan, Afghanistan and Nigeria. He also has a new endeavor in the works: fixing agriculture. His foundation has committed more than $2 billion to small farmers. Less than one-fourth of his net worth is still held in Microsoft, whose shares are trading higher than they've been in 10 years and helped boost his fortune, which is up $5 billion. The rest is in private equity, bonds and stocks such as Ecolab and Mexican broadcaster Televisa.
3. Warren Buffett – $44 billion (DOWN) – Berkshire Hathaway – USA
New Senate legislation requiring the rich to pay at least a 30% tax rate has been dubbed the "Buffett Rule" in homage to the billionaire's frequent public statements that the wealthiest should pay more than the average Joe. His net worth is down $6 billion year on year because of a 7% slump in Berkshire's stock. In his latest annual letter he confessed to some mistakes, including being "dead wrong" about a housing comeback.
4. Bernard Arnault – $41 billion (EQUAL) – LVMH – France
LVMH extended ties to two major brands: first, the Bulgari family transferred its majority stake in its eponymous brand to LVMH in exchange for shares and seats on LVMH's board; second, LVMH acquired a 20% stake in Hermes. The group also formed a JV with one of the world's leading tanneries of crocodile leather, Heng Long.  Arnault hasn't done as well with his more pedestrian investment in supermarket chain Carrefour, which is worth $1 billion less than it was a year ago. Among his personal high-end collection: He owns yacht builder Royal Van Lent, Indigo Island in the Bahamas (rent: $300,000 a week) and ski chalet Cheval Blanc in Courchevel.
5. Amancio Ortega – $37.5 billion (UP) – Zara – Spain
Ortega stepped down as chairman of his global fashion firm, Inditex, in July 2011, but the company hasn't missed a beat. Shares are up one fourth in the past year, helping boost his fortune by $6.5 billion and pushing him into the global top 5 ranks for the first time.
6.Larry Ellison – $36 billion (DOWN) – Oracle – USA
Oracle's stock has been oscillating for months. It's rebounded since its August low but is still off 15% year on year due to a slowdown in the software and hardware giant's sales, enough to knock $3.5 billion off Ellison's fortune.
7. Eike Batista – $30 billion (EQUAL) – Mining, oil – Brazil
Brazil's richest man is riding high on oil fever. His oil and gas driller, OGX Petroleo e Gas, produced its first oil in a test well offshore in late January; his 61% stake in the company is worth $19.8 billion-two-thirds of his net worth.
8. Stefan Persson – $26 billion (UP) – H&M – Sweden
His cheap-chic apparel chain H&M added Versace and Marni to its stable of designers last year and opened its first stores in Croatia, Singapore and Romania.
9. Li Ka-shing – $25.5 billion (DOWN) – diversified source – Hong Kong
Despite a small drop in fortune, Li Ka-shing moves back into the top 10 for the first time since 2007 and reclaims the title of Asia's richest for the first time since 2004.
10. Karl Albrecht –  $25.4 billion – Aldi – Germany
His $39 billion (estimated sales) discount supermarket giant, Aldi Sud, has some 4,500 stores, including 1,200 across 32 U.S. states.