Richard Branson is placing his bets on medium size "boutique" ships.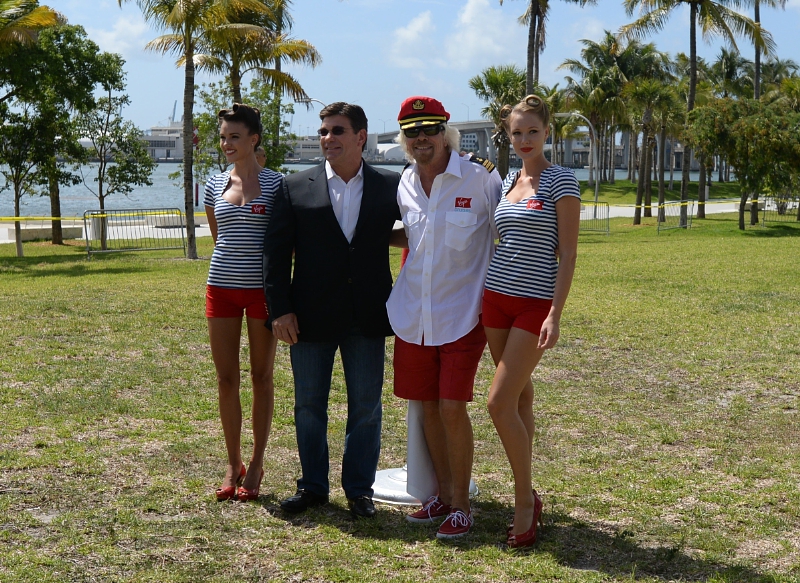 British tycoon Richard Branson unveiled the plans for Virgin Cruises 'boutique' cruise line. The founder of the Virgin Group announced that Virgin Cruises has selected Port Miami as the home port for its first cruise ship that will set sail in 2020. Richard flew across Miami's Biscayne Bay via helicopter landing at Museum Park.  He also revealed Virgin Cruises has signed an agreement with Italian shipbuilding company Fincantieri for three new mid-size ships.
"This is a very exciting day for Virgin and travelers around the globe," said Richard Branson, emerging through a cloud of iconic Virgin red smoke. "We now have the right partners in place to build a world-class cruise line that will redefine the cruising experience for good. The Virgin Cruises approach will appeal to cruisers and non-cruisers alike, and we look forward to being in Miami and delivering an experience for people who want a new way to cruise."
Virgin Cruises' three new mid-size ships, of about 110,000 gross tons each, are slated for delivery in 2020, 2021 and 2022. Each ship will feature 1,430 guest cabins to host more than 2,800 guests. There also will be 1,150 crew on board to deliver the famed Virgin customer service. Embarking from PortMiami, Virgin Cruises plans to offer a range of seven-day Caribbean itineraries, with a Sunday sail date.
Virgin Group announced the formation of Virgin Cruises in a venture with Bain Capital, one of the world's leading private investment firms, in December 2014.lin
"I'm convinced this choice will contribute to the expansion of the cruising audience, especially considering the market segment still has wide growth margins. I am sure that together, our teams will create cutting edge ships that deliver a memorable guest experience," stated Giuseppe Bono, CEO of Fincantieri.