The Wild Tale Of The Whiskey That Wasn't Supposed To Be: The Wild Turkey Forgiven.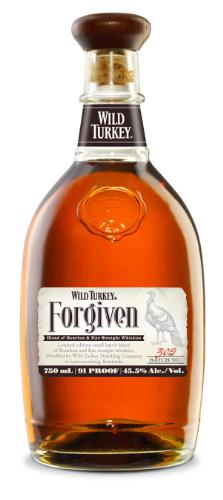 Despite its accidental beginnings, Wild Turkey Associate Master Distiller Eddie Russell quickly realized that he had an exceptional whiskey more than worthy of bringing to market, hence the name "Forgiven." The Wild Turkey Bourbon Distillery crew unwittingly mingled very rare, high-proof Rye with perfectly-aged Bourbon. The result is Wild Turkey Forgiven, the 91-proof, small-batch Bourbon and Rye whiskey.
Made from 78 percent 6-year-old Bourbon and 22 percent 4-year-old Rye, the whiskey opens bold and finishes smooth, with tasting notes of creamy vanilla and oak, and a peppery, cinnamon finish.
"Wild Turkey is known for its uncompromised quality and taste in every Bourbon and Rye expression we make," said Eddie Russell. "Much to the distillery team's relief, Forgiven highlights the best of both worlds to create a one- of-a-kind taste that will appeal to both Bourbon and Rye aficionados. I was mad when I first discovered our crew's mistake, but once I tasted it, all was Forgiven."
Like all Wild Turkey Bourbons, Forgiven is born from a natural aging process using American oak barrels with the deepest number 4 or "alligator" char that is used to age every Wild Turkey Bourbon and Rye. Forgiven joins a growing product line-up that features flagship Wild Turkey Bourbon 81 and 101, Wild Turkey Rye, Rare Breed, Kentucky Spirit, American Honey and Russell's Reserve.
"The Rye category is experiencing explosive growth right now, up 44 percent in the most recent Nielsen figures, with bartenders across the country populating their cocktail menus with this spicy spirit," said Andrew Floor, Group Brand Director, Wild Turkey. "As both the Bourbon and Rye categories continue to witness broad expansion worldwide, Wild Turkey will maintain its commitment to creating high-quality products that have been the brand's signature for more than 100 years, while exploring new and interesting whiskies that appeal to bartenders and consumers alike."