Guests can look forward to experiencing Four Seasons hotel Abu Dhabi at Al Maryah Island beginning in May 2016.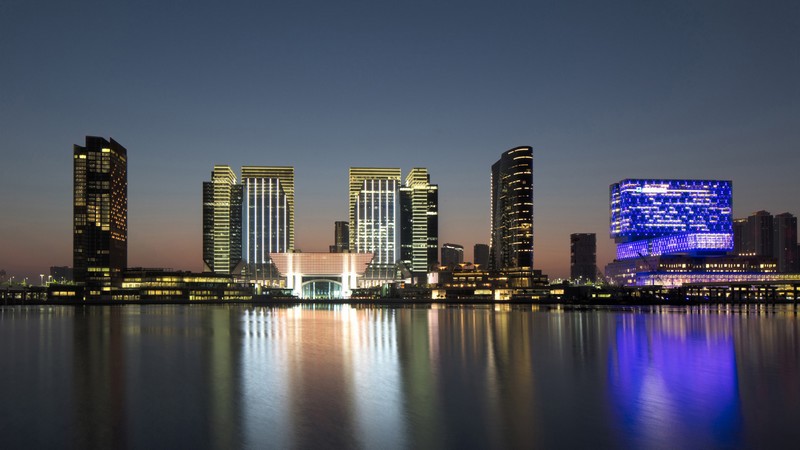 Al Maryah Island is located northeast of Abu Dhabi, the capital of the United Arab Emirates. It is named for the Arabian oryx ("al maryah" in Arabic), a large number of which once inhabited the surrounding area. Al Maryah Island is one of the largest construction sites in Abu Dhabi. The island is being developed in several phases which include construction of offices, residential buildings, hospitals, and luxury hotels like the new Four Seasons.
The all-new Four Seasons hotel Abu Dhabi at Al Maryah Island is located in an urban community in the heart of the UAE's capital city. Situated right on the water, the hotel boasts bright open spaces that embrace expansive views of the city skyline and Arabian Gulf.
The 34-storey glass tower is high tech and environmentally advanced, an oasis that blends urban chic with understated luxury. The distinctive exterior features a pattern of long vertical baguettes inspired by the colourful textiles of the souk that also offer energy savings by shielding direct sunlight. Light-filled luxury accommodations all have water views, and public spaces have been designed to take advantage of the sun's natural light, whether indoors or out. In addition to the city's most spectacular meeting and event spaces, Four Seasons will also introduce six creative new dining and drinking concepts to the city for the first time, including a chic poolside lounge. A luxurious spa and fitness centre offers relaxation as well as treatments suited to guests accessing the world-class healthcare facilities at the nearby Cleveland Clinic Abu Dhabi.
Four Seasons hotel Abu Dhabi is located near the new international financial centre, offices of global companies and luxury shopping at The Galleria – all connected to Four Seasons via climate- controlled retail passageways. Abu Dhabi International Airport is just 30 minutes away, and travellers also have the option of flying into Dubai and driving 95 minutes to Al Maryah Island.
The new hotel offers 200 light-filled accommodations including 38 suites, all with elevated views of the water, the surrounding Al Maryah Island community and the Abu Dhabi city skyline.
All rooms feature the new, fully customisable Four Seasons Bed, invitingly dressed in white linens, with bedside controls for lighting and window coverings, a full charging/electrical dock, and a poseable reading light on each side. The 13th-floor Royal Suite measures 267 square metres (2,874 square feet), with a two-storey sitting room decorated with crystal chandeliers, hand-painted silks, exotic marbles and rich hardwood flooring.
Six restaurants and lounges are among the dining and drinking options for guests of Four Seasons, as well as local visitors. The culinary team is led by Four Seasons veteran Executive Chef Giancarlo di Francesco.
A well-balanced life includes time to relax and to rejuvenate while travelling. Facilities include:
Spa on the third floor, with eight treatment rooms including a couple's suite, all with private showers
Two state-of-the-art fitness centres, on each for men and women, with floor-to-ceiling windows overlooking the water;
Separate men's and women's therapeutic relaxation areas that each include a hydro pool, sauna, hammam, ice fountain, showers and more, plus a full-service hair and beauty salon for women, and a men's barbershop;
Expansive outdoor swimming pool boasting unobstructed sunrise and sunset views, as well as Four Seasons signature poolside service.