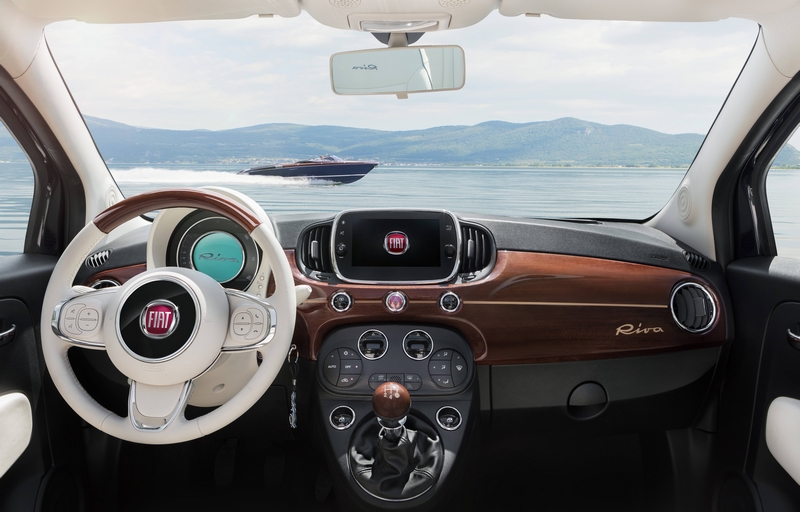 FIAT 500 and Aquarama, the Riva speedboat finally converge in the form of the FIAT 500 Riva. Available as a hatchback or convertible, the FIAT 500 Riva has been given a unique appearance with premium materials by Riva. Aimed at motorists seeking the same exclusivity of Aquariva Super yacht – the current Riva icon – but in an everyday package, the FIAT 500 Riva is finished in "Sera Blue", an exclusive colour for this limited edition model and one of the most popular for the Aquariva Super, successor to the legendary Aquarama.
The convertible version also gets a new blue soft top, created exclusively for this version, while the hatchback gets a panoramic glass roof as standard, but what really sets the FIAT 500 Riva apart is the detailing: Externally, in addition to the exclusive colour, the mirror caps have a chrome finish, as do the handles and the bonnet trim. A double aquamarine line runs along the belt line, enhancing the soft profile of the 500 and recalling the beautiful line of a yacht, while brand new 16-inch, 20-spoke alloy wheels, with a special blue finish, have been created especially for the FIAT 500 Riva. Finally, the logo of the nautical legend is placed on the boot lid, the wheel arch and the wooden insert of the side moulding.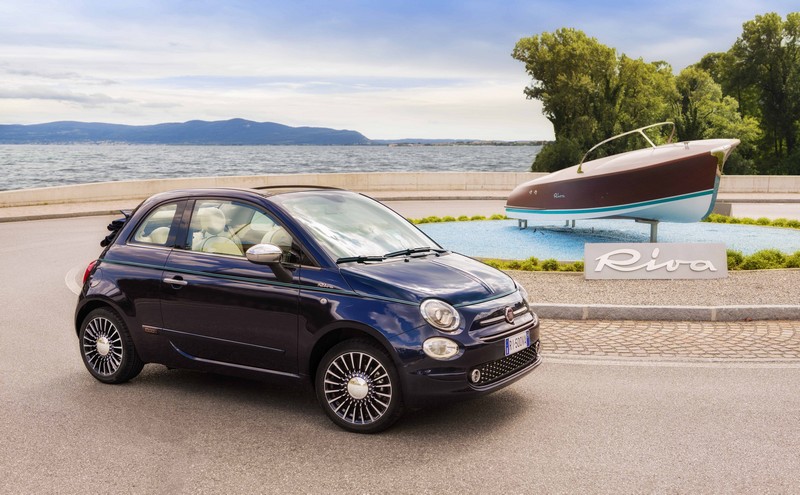 Inside, the dashboard is finished in hand-painted mahogany with maple inlay work, offering the occupants the luxurious warmth of life on-board, as emphasised by the prominent Riva logo. An innovative engineering process was implemented to make the dashboard, merging state of the art materials technologies with natural wood and classic craftsmanship: The wood is applied onto an ultralight carbon shell to ensure stability, flexibility and perfect strength over the lifetime of the vehicle. The maple inlays are inserted by hand, making each creation truly unique.
The equipment includes automatic climate control, front fog lights, rear parking sensors, LED DRLs and a seven-inch TFT instrument cluster with aquamarine background and Riva logo. In addition, the dashboard incorporates as standard FIAT's latest seven-inch HD UconnectTM LIVE infotainment system, featuring a high-definition display and a wide range of functions including DAB digital radio, UconnectTM LIVE services, Bluetooth voice calls, music streaming and voice recognition. The system can be upgraded with 3D satellite navigation as an option.